The insurance and reinsurance industry loss caused by the recent June 6th hailstorm that impacted Texas around the Dallas Fort Worth area, could reach as much as $1 billion, according to analysis by catastrophe risk modelers Karen Clark & Company (KCC).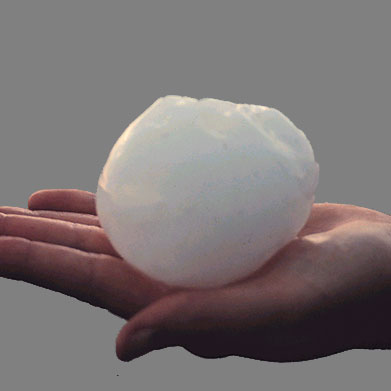 We wrote last week that an initial estimate from the Insurance Council of Texas had suggested an insurance and reinsurance industry loss of around $425 million, which other sources at the time said was likely to rise further.
Aon's Impact Forecasting division had said that the initial estimate from the Insurance Council should be considered preliminary, explaining to expect a "notable uptick" in the industry loss total from the Texas hailstorm event.
Now KCC has pointed to the chance of this becoming one of the largest single convective storm loss events of the year so far, saying that the June 6th hailstorm "will generate close to $1 billion in insured losses to residential and commercial properties and automobiles, the majority of which is expected to be in Texas."
Baseball sized hail was reported across the region, particularly in Dallas, Tarrant, and Denton counties.
Explaining the hailstorm outbreak, KCC said:
On June 5, the intrusion of a maritime tropical air mass, a dew point around 70°, and moderate shear provided an ideal environment for SCS formation. That night, an isolated storm formed north of Dallas, near McKinney, TX. The storm progressed southward with the mean atmospheric winds against the surface flow. The unidirectional winds allowed the storm to split into right-moving and left-moving cells less than an hour after forming.

Generally, left-moving cells dissipate relatively quickly, and right-moving cells maintain intensity. In the case of this storm, the left-moving cell dissipated as expected, and the right moving cell brought large hail to the Dallas-Fort Worth area.

The observed radar reflectivity values of over 65 dBZ indicated the potential for large hail formation, and baseball-sized hailstones were reported in Carrollton and Coppell. The storm produced destructive hail for nearly an hour and dissipated south of Arlington around 3:00am CDT on June 6.
KCC further explained that significant damage to automobiles was seen in the Dallas-Fort Worth area, while the majority of residential and commercial property damage is likely to be to roofs, windows, skylights, and solar panels.
The Insurance Council of Texas had originally estimated that as many as 20,000 homes received some level of damage from the hailstorm, as well as 25,000 vehicles.
KCC has now run the hailstorm event footprint through its catastrophe risk models and expects that the loss to the insurance and reinsurance industry will approach $1 billion.
A billion dollar hail loss event has a chance of eroding some reinsurance aggregates on traditional and collateralized contracts.
Register now for our upcoming Singapore conference. Tickets on sale here.


View all of our Artemis Live video interviews and subscribe to our podcast.
All of our Artemis Live insurance-linked securities (ILS), catastrophe bonds and reinsurance video content and video interviews can be accessed online.
Our Artemis Live podcast can be subscribed to using the typical podcast services providers, including Apple, Google, Spotify and more.