Two of Australia's largest insurers are expecting their reinsurance treaties to trigger after a major hail storm struck the Sydney and surrounding area on Thursday, resulting in catastrophic damage and already more than 25,000 claims filed.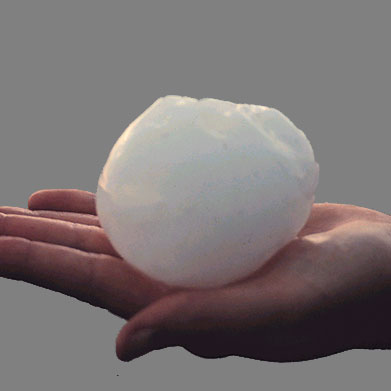 Large hail from severe thunderstorms struck the Sydney area, resulting in significant damage to insurable property and motor vehicles.
The Insurance Council of Australia (ICA) said that it was declaring a catastrophe following the Sydney hail storm event, saying that the 25,000 claims filed would already drive industry losses of over $125 million, a figure expected to rise sharply as more claims flood in.
Three-quarters of the claims are for damage to cars and other vehicles, typically smashed windscreens and dented panels due to the large hail impacts from the Sydney storm. Homes and businesses also suffered damage to roofs, awnings and solar panels, while overflowing gutters have resulted in interior damage to some properties as well, the ICA said.
But the costs are already anticipated to eat into reinsurance treaties for two of the largest Australian insurers, as both Suncorp and IAG warned of the potential for the hail event to become their largest catastrophe loss of the year.
Suncorp said it has already received almost 8,000 claims, but said that it expects its reinsurance program will limit claims from this event to $250 million.
In addition Suncorp could also eat into its catastrophe aggregate reinsurance cover, which would kick in and provide $300 million of cover for loss events that drive more than $10 million of impacts, once the aggregate trigger of $504 million has been breached.
Prior to this new Sydney hail storm loss, Suncorp's aggregate catastrophe losses had reached $350 million to $360 million, which is right up at the insurers natural hazard allowance of $360 million for the half-year.
Hence, it is possible that this Sydney hail loss takes Suncorp over its aggregate treaty trigger of $504 million.
Meanwhile, insurer IAG said that it also expects a significant impact from the Sydney hail storm.
IAG said that the anticipated number of claims and severity of the hail damage seen indicates a pre-tax loss in line with its maximum first event retention, of $169 million after taking into account its quota share reinsurance.
IAG has already counted over 6,500 claims and from its statement is expecting to breach that reinsurance retention level, so calling on its reinsurance panel for support after the Sydney hail loss.
IAG also said that after the Sydney hail loss it now expects that its deductible for catastrophe aggregate reinsurance will have been fully eroded, potentially increasing the amount of reinsurance support it will receive.
As a result, IAG said any subsequent event before 31st December 2018 will be capped at a $17 million pre-tax loss (after the quota share), because of the protection provided by the aggregate reinsurance cover. The 2018 aggregate cover amounts to $321 million, post-quota share.
Year-to-date, IAG's catastrophe claim costs for amount to roughly $410-430 million pre-tax, post-quota share, $169 million of which it attributes to this latest Sydney hail storm, again suggesting its reinsurance will cap the costs from this loss event for the insurer.
Both insurers said they expect the number of claims received will rise sharply in the coming days, largely from motor and property policies.
The costs are not expected to reach the levels seen in the 1999 Sydney hail storm, which is thought to have cost the insurance and reinsurance industry roughly AU $2 billion.
But this will be a significant loss event and just the latest severe convective weather related loss in the Sydney area, of recent years, driving further impacts to reinsurers and also ILS or collateralised funds that back these major Australian insurers programs.
Other major Australian insurers including QBE have not made any announcements about their potential losses at this time.
Register today for ILS Asia 2023, our next insurance-linked securities (ILS) market conference. Held in Singapore, July 13th, 2023.
Get a ticket soon to ensure you can attend. Secure your place at the event here!