Reinsurer Swiss Re has chosen to utilise an early redemption clause to redeem two tranches of mortality catastrophe bond notes issued through its Vita Capital IV Ltd. vehicle. The first tranche is the $75m Vita Capital IV Series 1 notes which were issued in November 2009, the second tranche is the $50m Series II issuance which came to market in May 2010. Both tranches were scheduled to mature on 15th January 2014.

All of Swiss Re's Vita Capital mortality insurance-linked security transactions contain a clause allowing them to redeem the notes earlier than the scheduled maturity, but only within the last year of the deal.
Swiss Re Capital Markets told us that they exercised the early redemption feature and this includes them paying a 'call premium' to investors. We understand that the investors have been paid 101 cents per dollar for the redemption of the $125m Vita Capital IV notes.
Swiss Re told us that it is constantly monitoring the effectiveness of all of its outstanding ILS and cat bond programmes. As part of this monitoring process it monitors factors such as the effectiveness of the protection relative to the expected maturity of the transaction.
Given that it has chosen to redeem these notes we can only assume that Swiss Re has seen a more effective way to secure this layer of mortality cover and will be arranging a new source of extreme mortality cover as its replacement. Whether that will be in the cat bond market is unclear at this time. It is likely that traditional protection may prove more cost-effective for these layers than the price paid to issue it as a cat bond a number of years ago.
———————————————————————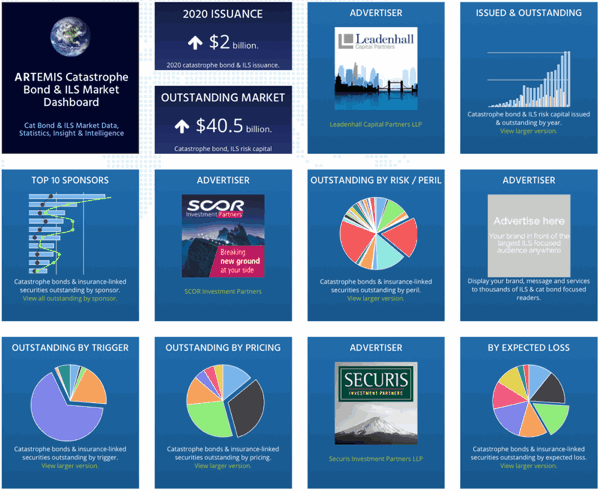 Analyse catastrophe bond market issuance using the Artemis Dashboard and Charts.
We've tracked more than 650 cat bonds and related ILS transactions since 1996, all of which are included in our extensive Deal Directory.
Use the Artemis Dashboard and our Cat Bond Market Charts to analyse this market!