Global insurance and reinsurance player Swiss Re has reported expansion in the first-quarter of 2018, as it underwrote more premiums across much of its business, reported better returns in property and casualty reinsurance, but noted that while the price environment is improving, it's still challenging the firm.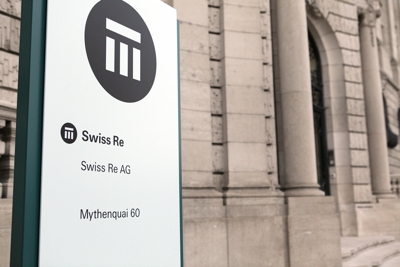 Swiss Re's results were helped by a lower level of major catastrophe losses in the quarter, although hit by a U.S. GAAP accounting change as our sister site Reinsurance News reported this morning, but its appetite to increase its deployment of capital into certain markets have now created an enlarged portfolio for the year ahead.
Group net income came in at $457 million, down on 2017's $656 million thanks to the estimated $280 million adverse impact from reporting under new U.S. GAAP accounting rules.
But aside from this accounting impact, Swiss Re's results reflect another reinsurer growing into a market offering better conditions, that have been attractive enough to allow it to grow its book.
Commenting on the first-quarter, CEO Christian Mumenthaler said, "We delivered a solid set of results across the board in the first quarter of 2018, as we maintained our underwriting discipline while expanding in an improving, yet still challenging, re/insurance pricing environment. The first quarter shows again the importance of our diversified business model, as Reinsurance delivered good results and Life Capital generated exceptional gross cash. Gross premiums written increased, reflecting robust growth in Asia and EMEA."
Overall Swiss Re has underwritten $11.5 billion of gross premiums in the first-quarter, up approximately 13% over Q1 2017's close to $10.2 billion.
The property and casualty reinsurance business grew, with more than $6 billion of gross premiums underwritten, up 4% compared to 2017's $5.78 billion.
Better market conditions in treaty reinsurance helped to drive some growth for Swiss Re, although the bulk is down to favourable foreign exchange movements.
The company said that it maintained its underwriting discipline for the April reinsurance renewals, and after this period the year-to- date treaty premium volumes are up by 7% in the P&C reinsurance unit, while pricing increased by 2%.
On a risk-adjusted basis, Swiss Re reported that the price quality of its renewed and expanded P&C reinsurance portfolio improved by 2% to 103%, compared to the prior year.
Compared to January renewals, Swiss Re said that April saw market pricing remain relatively stable, adding that the price increases achieved exceed the reinsurers hurdle rate required to meet its over-the-cycle ROE target.
The P&C reinsurance unit reported a return on equity of 13.5% for the first-quarter, up on the 10.8% reported for Q1 2017. Helping this was also a better combined ration of 92%, which was supported by a low level of major loss experience, the firm said.
Swiss Re also experienced growth in its life and health reinsurance division, underwriting $4 billion of premiums, compared to $3.2 billion in the prior year period. This unit reported an ROE of 11.5%, which was practically stable with Q1 2017.
Corporate Solutions, where Swiss Re moves up the value-chain to write direct commercial and corporate risks, underwrote significantly more premiums as well, $923 million, up from $717 million a year earlier.
But profitability declined in this unit, as a technical underwriting loss and a combined ratio of 100.2% drove net income to $41 million, down from $55 million in Q1 2017.
In the commercial risks arena Swiss Re also highlighted some improving market conditions, saying, "Rates as well as terms and conditions have started to improve after last year's sizable natural catastrophe losses, albeit at a variable pace depending on the region and segment."
So the reinsurer has enlarged reinsurance and commercial insurance portfolios, underwritten on better terms and pricing in the main, which suggests that over the following quarters as premiums earn through, the reinsurer should report better results, year-on-year, as long as major losses remain at expected levels.
Expanding underwriting books has been a feature of the first-quarter, as reinsurance firms around the world took advantage of market conditions after the major losses of 2017.
But with Swiss Re being of larger size, scale and with global plus line of business diversification, the firm can likely retain much more of its premium growth, unlike others that have clearly been ceding more risk to retrocession and third-party capital providers.
That suggests Swiss Re and the other major reinsurers will have a much better chance of earning outsized returns from enlarged reinsurance books underwritten at better pricing and terms, again, as long as losses remain lower.
But while market conditions are better, they still aren't perfect, CEO Mumenthaler said, "While the P&C market continues to present opportunities, it remains challenging and current price levels remain insufficient for long-term sustainability."
That could mean those reinsurers that ceded more of their premium growth are actually being quite shrewd, if despite price rises the risk adjusted returns are still insufficient for their own balance-sheet capital to hold.
But Mumenthaler is bullish on the outlook, explaining, "I am, however, positive on the outlook for our industry because risk pools themselves will continue to grow. We have built our business units on three strategic differentiators: client access, risk knowledge and capital strength. This, together with our fully embedded tech strategy, forms the basis of our future success. We will continue to work together with our clients to make the world more resilient."
On the Swiss Re and SoftBank talks, which as we wrote yesterday don't necessarily have to end up with the Japanese tech investor taking a stake in a reinsurer, as other, perhaps more efficient options could be available.
This morning Swiss Re CFO John Dacey said that while talks with SoftBank are ongoing, they haven't moved forwards and there is no clear indication a deal will be reached, as reported by our sister site Reinsurance News.
Dacey also suggested that Swiss Re always talks to other major firms, about partnerships or potential investments, which could mean the reinsurer has more irons in the fire than just SoftBank at this stage. To be honest, it would be a surprise if this wasn't the case.
Read more details on Swiss Re's results here.
Register now for our upcoming ILS conference, July 12th 2018, Singapore

———————————————————————

View all of our Artemis Live video interviews and subscribe to our podcast.
All of our Artemis Live insurance-linked securities (ILS), catastrophe bonds and reinsurance video content and video interviews can be accessed online.
Our Artemis Live podcast can be subscribed to using the typical podcast services providers, including Apple, Google, Spotify and more.
—————————————