The first full catastrophe bond issuance from Tokio Millennium Re (Bermuda) has increased in size by 72% while marketing, with the now $430 million Spectrum Capital Ltd. (Series 2017-1) cat bond set to secure an enlarged layer of reinsurance protection for the firm, with pricing now fixed at attractive levels.

When the Spectrum Capital 2017 cat bond was launched by Tokio Millennium Re it was seeking just $250 million of fully-collateralized multi-peril retrocessional reinsurance from the deal.
But as we wrote yesterday, when price guidance had been tightened for the two tranches of notes, our market sources had suggested that an upsizing was likely if investor appetite and pricing allowed and now its clear that this has certainly been the case.
The Spectrum Capital cat bond sees Tokio Millennium Re looking for derivative-style retrocessional reinsurance protection over a four-year term against losses from U.S. named storms, earthquakes, severe thunderstorms, wildfires, winter storms, and Canada earthquakes, on an industry loss triggered basis.
The first tranche of notes, a Spectrum Capital Series 2017-1 Class A, launched aiming for $100 million of annual aggregate reinsurance coverage. This tranche has now grown in size to $160 million, we understand.
The Class A notes were launched with coupon guidance in a range from 6% to 6.75%, which then dropped to a narrowed 5.75% to 6% and this has now been fixed at the lowest end of reduced guidance, at 5.75% we're told.
The Class B tranche were launched at $150 million in size, aiming for per-occurrence retro reinsurance coverage against losses from second and subsequent qualifying events. This tranche has now jumped in size to $270 million.
The Class B notes had initial price guidance of 3.25% to 4%, which then narrowed towards the middle of that range at 3.5% to 3.75%. We understand that pricing for the Class B tranche has now been fixed at 3.5%, so the bottom of the narrowed range and towards the lower end of the initial guidance.
Once again investor appetite has helped a sponsor to secure an enlarged layer of reinsurance protection, on a fully-collateralized and securitized basis from the capital markets.
Tokio Millennium Re will be pleased with its first full visit to the catastrophe bond market, with its transaction growing in size significantly while pricing of the notes coupons have fallen to very efficient levels.
This Spectrum Capital Ltd. (Series 2017-1) cat bond is set for completion next week. You can read all about this and every other catastrophe bond in the Artemis Deal Directory.
Just one month to go until our ILS Asia2017 conference in Singapore, tickets on sale here

———————————————————————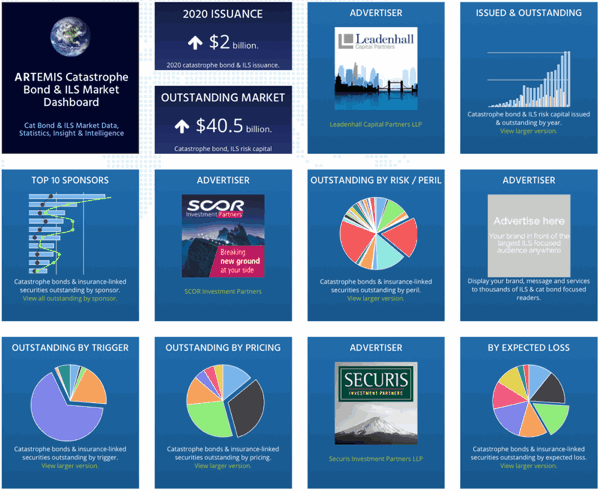 Analyse catastrophe bond market issuance using the Artemis Dashboard and Charts.
We've tracked more than 650 cat bonds and related ILS transactions since 1996, all of which are included in our extensive Deal Directory.
Use the Artemis Dashboard and our Cat Bond Market Charts to analyse this market!