Typhoon Jebi's impacts in Japan were always going to be a catastrophe loss event that would drive a modest amount of claims to some ILS funds and collateralised reinsurance vehicles, but with estimates rising for the industry impact, the expectation of ILS market losses is increasing as well.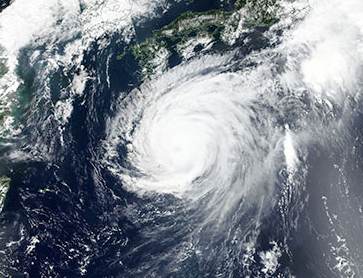 Yesterday morning reinsurance firm Swiss Re revealed that it expects a $500 million loss net of retrocession from typhoon Jebi, which signals just how big an event this could be for the global market.
Typhoon Jebi, which struck Japan on September 4th, was the strongest typhoon to impact the country in more than 20 years.
The storm caused at least 11 deaths and more than 600 injuries across the region of Japan most affected, Shikoku and Kansai, and caused significant property damage and business interruption impacts from wind and flooding.
In fact, it now looks as if typhoon Jebi has a chance of becoming the largest typhoon related insured loss on record.
The first loss estimate to be released, just a week after the event, was from AIR Worldwide which called for typhoon Jebi to cause an insurance and reinsurance industry impact of between $2.3 billion and $4.5 billion.
This was followed by an estimate from RMS a week later, calling for the industry loss to be between $3 billion and $5.5 billion.
Both of these now look too low and the market is now expecting something higher than the top-end of both of these ranges.
Reinsurance firm Swiss Re provided its own industry loss estimate for typhoon Jebi, saying that it believes the storm will result in $6 billion of insurance industry losses, meaning at $500 million of losses it expects to bear just over 8% of the total market-wide bill.
But the market itself seems to feel that this estimates is still a little too low and that typhoon Jebi could result in a higher losses than this, once all claims are dealt with. The size of the losses suffered by other major reinsurance firms and the major Japanese primary insurers will assist the market in finding exactly how large the typhoon Jebi loss is.
Typhoon Jebi could come close to surpassing 1991's Typhoon Mireille as the largest insured Japan typhoon loss in history.
Typhoon Mireille was estimated to have caused a roughly $6 billion insurance and reinsurance market loss in 1991 and if repeated today would perhaps cause as much as $8.5 billion of impacts to the industry, at today's dollar value.
With typhoon Jebi already estimated as a $6 billion industry impact, but many expecting that figure to rise a little further, the storm will without a doubt be among the most costly typhoon's on record for the country and for the global reinsurance industry.
For comparison, typhoon Mireille resulted in close to 700,000 insurance claims, where as typhoon Jebi's claims count had reached almost 500,000 by September 12th and has risen steadily.
Whether typhoon Jebi could see its claims count rise to as high as Mireille remains to be seen, but it is certain to be a major loss for Japanese primary insurers, some international insurers (AIG a notable name after its estimates this morning), global reinsurance firms and also a reasonable sized loss for some of the ILS market.
Japanese insurers have been buying more aggregate structures in recent years and given the catastrophe activity in the country it's understood a number of these arrangements are likely to be in play, or closer to being triggered.
The higher the industry impact from Jebi rises, the greater the share of losses that ILS and collateralized reinsurance markets are expected to take from this catastrophe event and the broader its influence on ILS returns will be. Hence the market will be watching for further development of this event carefully.
View all of our Artemis Live video interviews and subscribe to our podcast.
All of our Artemis Live insurance-linked securities (ILS), catastrophe bonds and reinsurance video content and video interviews can be accessed online.
Our Artemis Live podcast can be subscribed to using the typical podcast services providers, including Apple, Google, Spotify and more.