RenaissanceRe's CEO said that as part of the Bermudian reinsurance firm and third-party capital manager's acquisition of Tokio Millennium Re it will, alongside Tokio Marine, offer continuity to the fronting cedants and business partners for a defined period.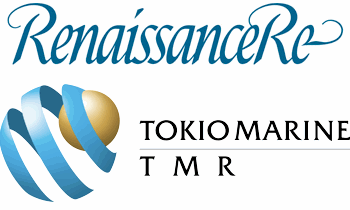 The TMR fronting business, which sees it assisting insurance-linked securities (ILS) funds and investors to access reinsurance risks through its highly rated balance-sheet, has become a significant piece of the reinsurers operations in Bermuda and a key offering to the alternative markets.
When the acquisition deal was announced this week, which will see RenaissanceRe acquiring Tokio Millennium Re for approximately $1.5 billion, we highlighted that it brings together an ILS capital manager (RenRe) and a reinsurer that also operates as an ILS facilitator for other managers and investors (TMR).
Tokio Millennium Re is particularly active in facilitating business for the capital markets, as a fronting company and transformer, assisting transactions with its highly rated balance-sheet and helping ILS funds and investors access risk using a range of collateralized reinsurance structures.
The future of this business, once TMR is integrated into RenaissanceRe remains unclear at this time, but the clients of these services will receive continuity, guaranteed the CEO of RenRe Kevin O'Donnell.
O'Donnell explained, "The transaction includes the TMR fronting business, which is a very different business to our third-party ventures business. As part of the transaction we have an agreement with Tokio Marine Group to continue to provide their capacity until 2021, allowing us to provide continuity to the fronting businesses cedants."
That news will please ILS funds and investors that have been working with the Tokio Millennium Re team as partners, as well as the cedants behind the risks fronted and transformed.
This future of this fronting business is perhaps uncertain now, given RenRe manages third-party capital directly and would likely prefer the investors to be allocating to its own vehicles, rather than providing them access to risks alongside its management of capital. While ILS funds that use the TMR fronting service could also be considered competitors for investor inflows, hence fronting for them may not interest, or sit well, at RenRe.
O'Donnell continued, "While we work through the process of determining the future of this business we will take no risk on our balance sheet related to these activities."
Should RenRe decide that TMR's fronting business will be wound down, it may open up a gap in the market for another rated balance-sheet to front risks for ILS funds and investors, or could stimulate more of the fund managers to look at other solutions such as their own rated reinsurance entities.
For RenaissanceRe the ILS facilitation business of TMR does not seem to have been a driver for the acquisition, as O'Donnell said that key for the firm was that the transaction, "Accelerate our strategy for providing us greater penetration into the reinsurance market at a time when desirable risk remains scarce."
He continued, "The TMR transaction is also a great example of how our strategy allows us to continually adapt to a changing market and permits us to offer more comprehensive solutions to a greater number of clients.
"This growth in scale will increase our access to risk, which should allow us to apply our core strengths to a broader client and broker base. It also reinforces our strategy of being an independent, leading reinsurer able to solve our clients toughest problems."
So RenRe is motivated by building its stature in reinsurance, with the integration of TMR set to broaden its access to attractive risk and other elements of the deal announced providing it with enhanced access to risk from key partners (Tokio Marine and also State Farm).
On the third-party capital management and joint-venture side of the RenRe business, which has become as large as its balance-sheet in recent years, the firm also sees the TMR acquisition driving growth, as it continues to pursue its "gross to net strategy."
This implies keeping only the risks that are suited to the balance-sheet, that return a sufficient amount on equity to warrant holding, while other risks are passed to its joint-venture vehicles and insurance-linked securities (ILS) funds in order to improve their returns on capital.
O'Donnell explained that there is around $700 million to $1 billion of gross premiums from TMR that RenRe envisages will meet its own underwriting hurdles, which implies there is another $400 million to $700 million, or so, that may not.
"Through the application of our integrated system and gross to net strategy we believe we have many options we can consider for this business," O'Donnell said.
Adding, "In addition to re-underwriting TMR's portfolio, we will further optimise it by bringing new sources of capital to the risk and more generally applying our gross to net strategy, which will lower the required capital needed to support this business and enhance its return on equity."
This optimisation is an ongoing and evolving process at RenRe and the reinsurer is becoming the leading proponent of identifying precisely when to use its own balance-sheet versus using third-party capital vehicles, or a joint-venture, in which it still has significant shares in the risks underwritten or ceded to them.
We'd suggest that as this strategy develops it is only going to serve to make RenaissanceRe a more attractive acquisition target for major global re/insurers.
Some have suggested that with the TMR acquisition likely to stall share price development and book value at RenRe for a time it could deter acquisitive predators.
On the other hand, the successful integration of the TMR book and ongoing growth of RenRe's underwriting business, using both its own balance-sheet and likely increasing amounts of third-party capital is only going to further demonstrate why this multi-balance sheet and capital agnostic approach is fit for the future. We'd say that makes RenRe an even more attractive target.
Finally, it does seem that RenRe will also ensure that the acquisition of TMR helps it to grow its own third-party capital vehicles, rather than passing risk on to others, or fronting on behalf of them.
O'Donnell stated that, "The TMR portfolio will bring incremental risk to our joint venture business, increasing its ability to efficiently match desirable risk with efficient capital."
He also noted that RenRe "will only be on-risk for the business we choose to renew going forwards."
So the fronting operations may change, come to an end, or result in a greater pipeline of risk being channeled to RenRe's own managed third-party and joint-venture vehicles in the future, but for existing TMR fronting partners the promise of continuity will be welcomed.
With months to go before the close of this acquisition RenRe has time to evaluate how best to put the expertise at TMR to use within its organisation and the resulting combination will be a force to be reckoned with in reinsurance, with a strategy that seems fit for the immediate future at least.
With RenRe having recently expanded the remit of its Upsilon collateralised reinsurance and retrocession ILS funds to include their first casualty risks it will be interesting to see how the firm evolves these strategies and leverages investor capital to help it manage its gross to net strategy across a broadening array of business lines.
Register today for ILS Asia 2023, our next insurance-linked securities (ILS) market conference. Held in Singapore, July 13th, 2023.
Get a ticket soon to ensure you can attend. Secure your place at the event here!