2014 is off to a strong start as the total volume of catastrophe bonds and insurance-linked securities (ILS) issued during the first-quarter and listed in the Artemis Deal Directory hit a record level, with $1.585 billion of new risk capital issued in Q1 2014.

The impressive level of issuance seen in the first-quarter of 2014 is testament to both the accelerating acceptance of catastrophe bonds and ILS as risk transfer tools by insurers and reinsurers, as well as the continued and growing appetite to invest in cat bonds and insurance linked securities shown by institutional investors such as pension funds.
The first quarter has seen a diverse set of transactions come to market and the highest issuance for the first three months of the year that Artemis has ever witnessed. The total issuance figure of $1.585 billion includes every new cat bond or ILS listed in the Artemis Deal Directory. Even excluding three smaller, private or 'lite' cat bond deals, the issuance total for the first-quarter 2014 reached $1.51 billion which is still the highest seen for a Q1.
The next highest level of new cat bond and ILS issuance seen in a first-quarter was in 2012 when Artemis recorded $1.493 billion of new risk capital issued. 2011 saw $1.11 billion of new risk capital issued, and even 2007, when the annual total remains the single biggest year of issuance, the first-quarter only saw $1.005 billion.
The first-quarter of 2014 saw 11 new transactions recorded in the Artemis Deal Directory which is a record number for Q1, with an average transaction size of $144m. However, if we exclude the three small, or lite, cat bonds from the set analysed we get 8 new transactions, the second highest number Artemis has recorded in Q1 and an average deal size of $189m which is much more typical.
However, the way the catastrophe bond market is heading it looks like smaller transactions will increasingly come to market as issuance costs drop and private cat bond and ILS issuance platforms and transformers facilitate risk transfer for smaller deals. Therefore it is to be expected that a slide in average deal size compared to recent years is likely.
Looking at catastrophe bond and ILS issuance by month through the first-quarter of 2014, you can see that March 2014 was the strongest single month, with $1.11 billion of issuance from 5 new cat bond transactions.
That is a particularly strong single month of issuance, in fact the highest March issuance ever recorded by Artemis and the highest month of any first-quarter of the year since Artemis began analysing the cat bond market almost 15 years ago. The chart below shows first-quarter issuance by month and year and clearly demonstrates what a strong month March 2014 has been for new ILS risk capital issued.
The first-quarter of 2014 saw a reasonable mix of perils and triggers come to market. 55% of risk capital issued in the first-quarter used an indemnity based trigger while 36% was industry loss based. In terms of perils included in new catastrophe bond deals so far in 2014, 41% of the risk capital issued is from U.S. multi-peril cat bonds, 19% U.S. earthquake, 15% Japan earthquake and 13% healthcare linked. Other perils featuring in the quarter were Canadian perils and Australian cyclone risks. Notably absent were U.S. wind only cat bonds, of which there were none in the quarter.
An interesting statistic from the first-quarter 2014 catastrophe bond and ILS issues is that 50% of the risk capital issued was in a tranche of cat bond notes with an expected loss of below 0.5%. That is particularly low, given that a more typical expected loss for catastrophe risks used to be between the 1% to 2% level.
As a result the average coupon, or interest paid to investors, from first-quarter 2014 issuances was also low. 44% of the risk capital issued offered investors a coupon of between 2.01% and 4%, 29% offered a coupon of 2% or less, while only 20% offered investors a yield of 6% or higher.
That is low even taking into account the gradual slide in catastrophe bond rates that has been seen over the last year or two. Investors require higher risk tranches of notes in order to maintain their return targets and the market is likely to respond to this needs as we move through the year. We would expect to see opportunities to boost returns in some cat bonds issued during Q2.
While catastrophe bond and ILS issuance has started 2014 very strongly with this record first-quarter, it has not been enough to maintain the strong outstanding growth seen last year. Just over $2 billion of maturities have outpaced issuance during the first-quarter, resulting in the size of the outstanding catastrophe bond and ILS market shrinking a little.
By Artemis' calculations, based on raw data from Swiss Re and augmented to include every transactions featured in the Artemis Deal Directory, the size of the outstanding catastrophe bond and ILS market stands at the end of Q1 2014 about $500m smaller than it finished 2013, at $20.05 billion.
This strong start to 2014 and this record first-quarter should help to ensure that the catastrophe bond and ILS market once again sees outright growth by the end of the year. There are more than $2 billion of additional maturing bonds to come throughout the rest of the year but with this strong start issuance should be able to more than keep pace, as long as nothing affects deal-flow significantly.
Issuance conditions for potential catastrophe bond or ILS sponsors remain extremely attractive, with investor interest in reinsurance as an asset class and cat bonds as fixed income assets very strong and pricing still at record lows. This means that any potential sponsors who have been considering a catastrophe bond may be encouraged to come to market in 2014.
However, for issuance to satisfy investor demand it will have to accelerate somewhat, as the market really needs to beat its 2013 issuance of $7.64 billion if it is to soak up some of the excess capital in the market. It's hard to forecast what level of issuance would begin to satisfy investor demand, but we may need a $10 billion year to even come close to soaking up the available capital.
Every catastrophe bond and ILS deal issued in the first-quarter of 2014 and included in the Artemis Deal Directory is listed below. In total Artemis recorded $1.585 billion of ILS issuance from 11 transactions, giving an average deal size of approximately $144m. That is the highest issuance volume for a first-quarter of any year in the catastrophe bond and ILS market's history.
We look forward to keeping you abreast of any, and all, developments in the cat bond and ILS market as we move through 2014. In fact, the first cat bond of Q2 2014, Citrus Re Ltd. (Series 2014-1), launched yesterday, so start with that.
For full details of every catastrophe bond & ILS transaction since the market began just visit the Artemis Deal Directory.
———————————————————————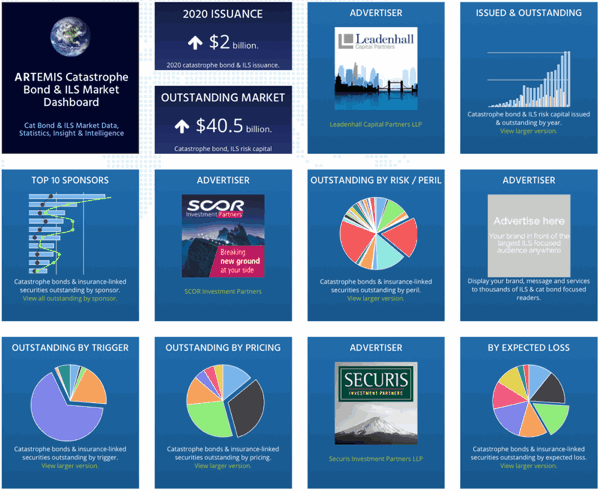 Analyse catastrophe bond market issuance using the Artemis Dashboard and Charts.
We've tracked more than 650 cat bonds and related ILS transactions since 1996, all of which are included in our extensive Deal Directory.
Use the Artemis Dashboard and our Cat Bond Market Charts to analyse this market!