The Insurance Council of Texas reports that for the third time in a month severe hail storms and damaging winds have impacted cities in the state. The Insurance Council also revealed that insurance and possibly reinsurance industry losses from the previous two events could hit $1.3 billion.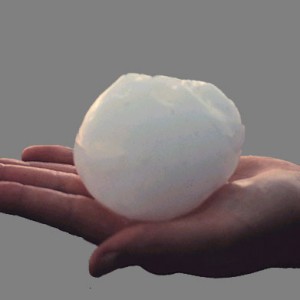 After severe thunderstorms and resulting large hail storm events in the Dallas and Fort Worth regions of Texas on March 17th, and similar weather conditions in the Denton and Colin County areas on March 24th, a third hail storm event has impacted further parts of the state.
The Insurance Council of Texas has reported that on Monday April 11th 2016 large hail storms and damaging winds battered parts of Northern Texas, causing damages in the hundreds of millions of dollars.
Insurance and possibly reinsurance industry losses from the first two events are now estimated to hit the $1.3 billion mark, as losses from the March 24th event are expected to reach $700 million with claims still filtering in.
The March 17th thunderstorm and hail event caused an expected $600 million of insured losses, says the Insurance Council.
According to a release from the Insurance Council the areas worst hit by the April 11th Texas hail storm were the cities of Plano, Wylie, Frisco, and Allen, with the majority of those homeowners affected still recovering from the previous storm.
"Insurance companies already had catastrophe teams in place to handle the thousands of claims coming in from the two previous storms. There is no doubt that additional insurance adjusters will be called in to handle the aftermath of the devastating storm," said Mark Hanna, a spokesperson for the Insurance Council of Texas.
The storm travelled more than 100 miles from Archer City to Longview, reports the Insurance Council, with other reports noting wind gusts of up to 60mph.
The state of Texas is extremely vulnerable to severe convective weather and resulting thunderstorms and hail storms, emphasised by the National Weather Service, which, reveals that during 2015 Texas experienced 783 hail events and 240 tornadoes, more than any other state.
The Insurance Council is yet to report an estimate for the most recent, and third hail event to strike Texas in the last month, but should it be as costly as the previous two events then losses could easily creep towards the $2 billion mark.
As we've discussed previously at Artemis individually the losses aren't too much of a worry for reinsurers, and also insurance-linked securities (ILS) funds that deploy capacity to collateralized reinsurance protecting the region.
However, the third intense hail storm in a reasonably short period of time could be a warning of how the season is likely to progress, highlighting the potential for attritional losses for the ILS fund market owing to any exposure to collateralized reinsurance, particularly on aggregate contracts.