According to the respondents of our first global reinsurance market survey, price is set to be the most important factor in their decisions on reinsurance counterparts' at the key January 2019 renewal season, suggesting competition will be high.

We recently published the results of our first global market survey, which we undertook alongside our other international reinsurance media site Reinsurance News in late August.
The survey reveals interesting insights into how the industry perceives the current state of global reinsurance, the trends shaping the market and the outlook for the upcoming renewal season.
One area of intrigue is the fact that nearly 60% of our survey respondents ranked price as the most important factor they will consider when selecting a counterparty for the January 2019 renewals.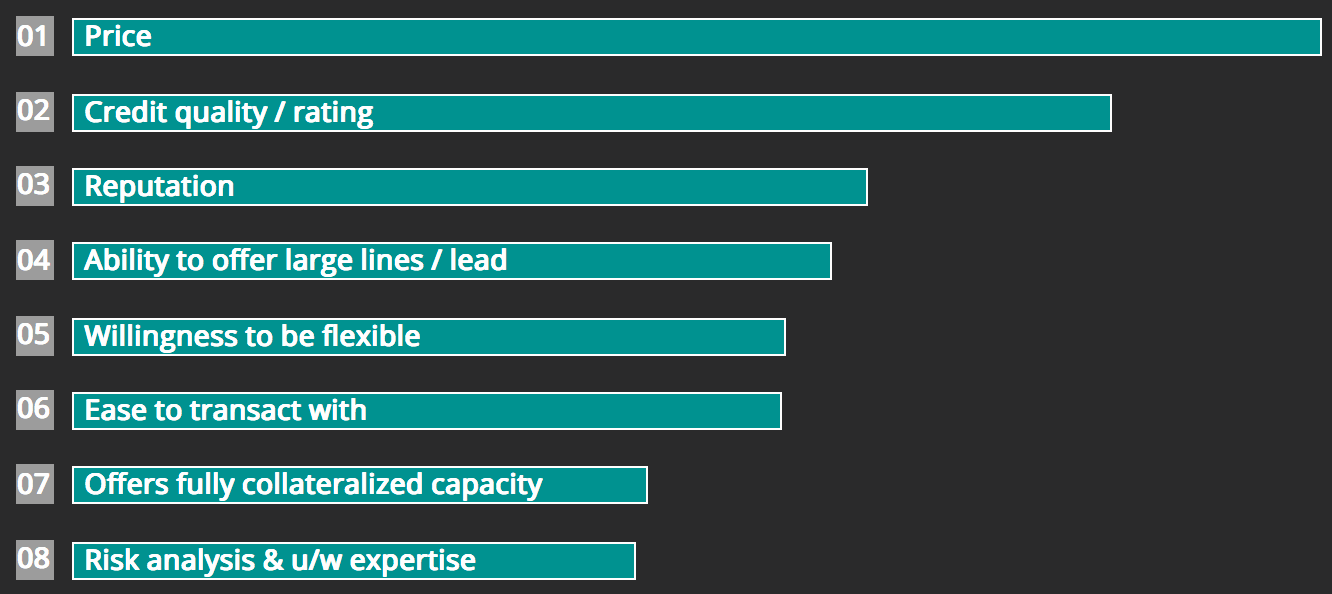 More than 62% of our survey respondents said they have responsibility for, or provide input to, reinsurance buying decisions.
So we asked what protection buyers would be looking for in their counterparty for the next renewal season.
Price came out on top, with just below 60% of survey respondents saying that price is the most important factor to them for this 1/1.
Of course reinsurance pricing did rebound a little after the loss events of 2017, but any rate momentum has decelerated and most of the market seems to be hoping for flat pricing at best for 1/1 2019.
But the fact that price has been cited as so important may suggest that pressure on pricing is set to return, as no matter how much capital is in the market it is competitive traits that can turn the price trajectory on its head and send it south once again.
Of course a focus on price also suggests high levels of competition for signings, meaning smaller reinsurance markets may find themselves increasingly marginalised once again, as the larger or more efficient players have more to offer in terms of service, or a greater ability to provide cost-effective coverage.
Following price, counterparty credit quality or rating was ranked as the next most important factor that protection buyers would be considering in January 2019, followed by reputation and then the ability to offer large lines or to lead programs.
Again, these factors favour the larger players, but also favour the larger ILS fund markets and those ILS players that have rated balance-sheets available to them, either owned or rented fronting paper.
A willingness to be flexible and how easy a counterparty is to transact with were cited as the next most important factors, ranked as of similar importance to reinsurance buyers.
After that, the ability to offer fully collateralized capacity was ranked as the seventh most important factor, which is not so surprising given it is no longer essential to deal with full collateralization in order to access the capital markets.
Finally and perhaps a little surprisingly, risk analysis & underwriting expertise was ranked as the least important factor buyers would be focused on at the January 2019 renewals. However, it's important to note that this is a ranking, which doesn't mean everyone ranked that as bottom, just that averaged out it fell to the bottom of the pile.
Our survey suggests that the January 2019 reinsurance renewals will be interesting and competitive, with a focus on cost-effective coverage at the reinsurance buyers side and hence on offering additional value or ultimate efficiency at the markets.
That puts the onus on carriers to be efficient and find ways to lower their costs-of-capital, perhaps raising the importance of third-party capital once again.
About the survey:
Our global reinsurance market survey was conducted through direct outreach to our senior reinsurance and insurance-linked securities (ILS) industry readership across both Reinsurance News (62,000+ unique readers in August 2018*) and Artemis (55,000+ unique readers in August 2018*), as well as through our wealth of industry contacts.
Hundreds of responses from identifiable participants were received, including numerous from reinsurance market CEO's and other senior decision makers. In total over 62% of the respondents provide input to or are responsible for reinsurance buying decisions.
Based on Google Analytics unique user numbers.
The full results of the survey are freely available online and we're happy to discuss them with any industry participants. We're interested to hear your thoughts.
Analyse the results of our global reinsurance market survey here.
Register today for ILS Asia 2023, our next insurance-linked securities (ILS) market conference. Held in Singapore, July 13th, 2023.
Get a ticket soon to ensure you can attend. Secure your place at the event here!