Price guidance on French reinsurer SCOR's latest $150m U.S. wind, U.S. and Canada earthquake catastrophe bond Atlas IX Capital Limited (Series 2015-1) has narrowed right at the low-end of initial guidance, according to sources.

SCOR's latest cat bond transaction launched almost a fortnight ago and sees the reinsurance firm seeking $150m of fully-collateralized retrocessional reinsurance protection for certain of SCOR Global P&C SE's, U.S. named storm, U.S. earthquake and Canada earthquake risks. Protection will be on an industry loss and aggregate basis across a four-year risk period.
The single tranche of Series 2015-1 Class A notes remains sized at $150m, we are told, as the deal has not upsized at this stage. However the pricing guidance has been narrowed at the low-end of initial guidance, sources said, with the initial 7% to 7.75% coupon range now tightened to 7% to 7.25%.
With the notes having an initial expected loss of 3.43% it will see this cat bond launch with a multiple of just above 2, which while low is in-line with many other recent cat bond multiples.
This cat bond, which is SCOR's eleventh time visiting the capital markets with an insurance-linked security in the Atlas series according to our directory of ILS and cat bond transactions, is expected to close next week.
You can read all about SCOR's Atlas IX Capital Limited (Series 2015-1) catastrophe bond and we will update you as more information becomes available on the deal's pricing and close.
———————————————————————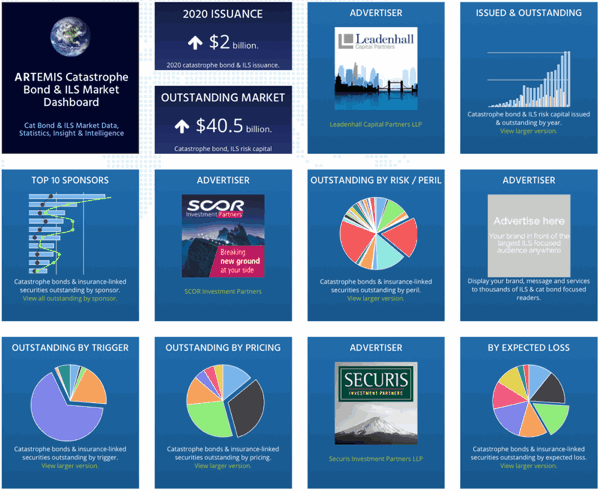 Analyse catastrophe bond market issuance using the Artemis Dashboard and Charts.
We've tracked more than 650 cat bonds and related ILS transactions since 1996, all of which are included in our extensive Deal Directory.
Use the Artemis Dashboard and our Cat Bond Market Charts to analyse this market!