PERILS AG, the independent Zurich-based company providing industry-wide European catastrophe insurance data and loss indices, has today published their fourth and final loss report and estimate for European windstorm Andrea, a storm which impacted the UK and Western Europe from 4th to 5th January 2012. The loss estimate has been reduced by €1m to leave a final property insurance market loss estimate for Andrea of €336m.

PERILS last estimate for windstorm Andrea was issued in July 2012, when they estimated the total market insured loss at €337m. Prior to that the loss estimates had been steadily rising with each report.
The first loss estimate for European windstorm Andrea put the insurance industry impact at €267m in February 2012, that rose to €309m in April 2012 and then rose again to €337m in July.
The final loss estimate of €336m announced today is available to PERILS subscribers in full resolution by CRESTA zone and by the property sub-lines Residential, Commercial, Industrial and Agricultural, said PERILS.
Andrea is not expected to impact any catastrophe bonds or ILW's given the low industry loss total. Most existing structures covering European windstorm have a higher industry loss trigger attachment point, although any exposed aggregate transactions could see the loss qualify.
PERILS only reports on events which it believes, after investigation, to have caused at least a €200m insurance industry loss. With this final report for Andrea, PERILS now has no more events with developing loss estimates having reported fully on all historical events which pass that threshold. The market will now closely watch any future European windstorm events to see whether they qualify for loss reporting.
———————————————————————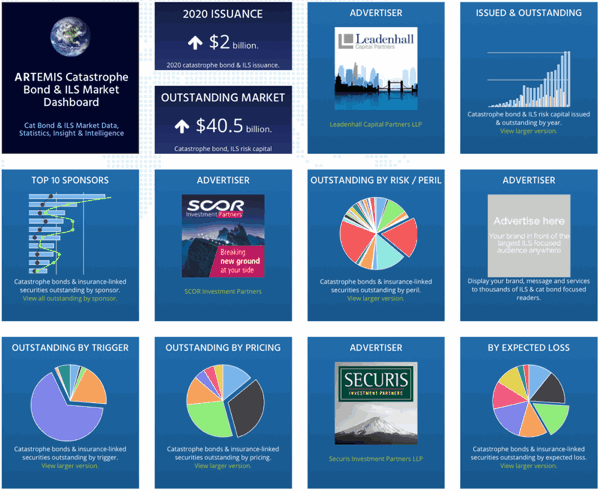 Analyse catastrophe bond market issuance using the Artemis Dashboard and Charts.
We've tracked more than 650 cat bonds and related ILS transactions since 1996, all of which are included in our extensive Deal Directory.
Use the Artemis Dashboard and our Cat Bond Market Charts to analyse this market!