Zurich based PERILS AG, the independent provider of industry-wide European catastrophe insurance data and loss indices, has announced that the total limits at risk which use PERILS industry loss data as at the 1st September 2013 reached $4.3 billion.

Since PERILS launched its industry loss index and data services in December 2009, it has seen strong adoption as insurers and reinsurers took advantage of a new reporting agent and data source for use within the triggers of catastrophe bonds and other instruments such as industry-loss warrants (ILW's). Since its launch over $8 billion of limits have been placed, through more than 100 transactions, using PERILS data.
When we last reported on PERILS, the limits at risk had grown to $4 billion by the end of the first quarter. Since that time European windstorm catastrophe bond issuance has been a little slower than historically, with just one issued, Green Fields II Capital Ltd., but still usage of PERILS has outstripped maturing transactions and enabled it to see further growth in terms of limits placed using PERILS data.
Of the $4.3 billion at risk using PERILS data at the 1st September, $2.66 billion or 62% is in catastrophe bond form (or 144A insurance-linked securities), while $1.62 billion or 38% is in the form of private industry loss warranty and derivative transactions.
According to PERILS, 73% of the transacted catastrophe capacity used its high-resolution data provided to structure bespoke industry loss triggers. These tailor-made triggers result in a significantly lower basis risk compared to conventional industry-loss-triggered
protection, in PERILS view.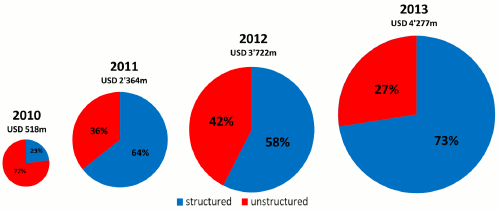 Eduard Held, Head of Products at PERILS, commented on PERILS continued traction; "The PERILS industry loss index has become the industry loss trigger of choice for transferring European storm risk to reinsurers and capital markets. Close to three quarters of the transacted capacity uses the available data granularity to structure protection triggers. Applying weighting factors by CRESTA zone, country or property lines of business significantly reduces the basis risk for the protection buyer. At the same time, disclosure requirements remain at very manageable levels. This makes risk transfer using structured PERILS triggers a highly effective and efficient risk management tool."
Luzi Hitz, CEO of PERILS, added: "Five years ago, the CRO Forum launched the PERILS industry initiative with the aim of making objective and independent Cat data more readily available. Since then we have made great progress. Our data are widely used in risk assessment, Cat model validation and portfolio benchmarking, and we have de facto become the standard for industry-loss based risk transfer for European windstorm. We are very grateful to see such a broad use of our data. For us, it is the rewarding evidence that the work we do is of significant value to the insurance industry."