Pension funds are still only dipping their toes into insurance-linked securities (ILS), reinsurance linked investments and catastrophe risks as an asset class, despite the amount of capital they contribute to the space being meaningful.

Artemis has written before that it is still early days for pension funds as investors into ILS and insurance or reinsurance assets. Reinsurance broker Guy Carpenter published some data on this topic recently, showing the size of the pool of global pension fund assets which could move into the ILS and reinsurance linked investments space.
The attraction that the asset class has for pension fund investment managers remains clear, the extremely low-correlation of ILS and reinsurance with other financial markets and assets, the still attractive yields (even after heavy declines in rates) and the diversifying nature of such investments within an overall portfolio.
Some ILS investment managers are already tapping into pension fund capital in a big way. Approximately 76% of ILS assets at Nephila Capital come from pension funds while as much as 91.5% of ILS assets at Leadenhall Capital are pension fund sourced, which clearly shows how much pension fund managers appreciate the asset class.
Guy Carpenter's data shows that there is a significant pool of additional capital assets at global pension funds which could be attracted to the insurance and reinsurance linked asset class if the opportunities to absorb this capital existed.
Pension funds are worth around$30 trillion in total global assets, an enormous amount of capital under management of which a significant proportion is specifically looking for an uncorrelated, yield providing, alternative investment opportunity.
Based on Guy Carpenter's analysis, in consultation with ILS sector experts, of the potential amount of capital which could be allocated to the insurance and reinsurance space, it believes that as much as $900 billion of pension fund capital could be available to ILS and reinsurance.
That's approximately 3%, which is in line with other experts estimates of the percentage of global pension fund assets that could be diverted into ILS.
Guy Carpenter noted that this number, of $900 billion, is much larger than is currently required. The total amount of global property catastrophe reinsurance limit is only $300 billion, according to the broker, and ILS or the collateralized portion of that is only around 15%.
This shows that so far pension funds have only made very small investment allocations to ILS and insurance or reinsurance as an asset class, relative to their overall size and total pension fund assets under management. Guy Carpenter's diagram below shows the asset opportunity that this presents to the insurance, reinsurance and ILS space.
———————————————————————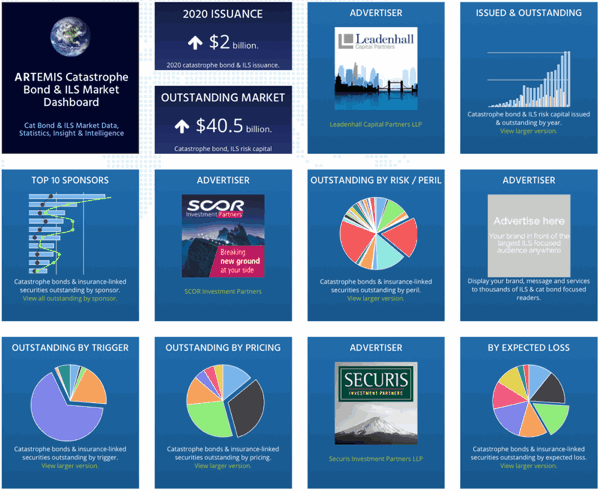 Analyse catastrophe bond market issuance using the Artemis Dashboard and Charts.
We've tracked more than 650 cat bonds and related ILS transactions since 1996, all of which are included in our extensive Deal Directory.
Use the Artemis Dashboard and our Cat Bond Market Charts to analyse this market!