Bermuda headquartered reinsurance firm PartnerRe benefited significantly from its use of collateralized sources of retrocessional reinsurance in 2017, which jumped from 41% to 63% of the companies overall reinsurance recoverables.

PartnerRe, which is now owned by Italian investment holding company EXOR S.p.A after an acquisition in 2015, utilises retrocession as a way to better manage the exposures within its reinsurance underwriting book and to lower the risk of losses on the business it underwrites.
At the end of 2017, PartnerRe reported that it counted that its reinsurance recoverables on paid and unpaid non-life and life reserves amounted to $729 million. It's overall reinsurance recoverables on losses reached $829 million, up from $332 million due to the impact of the major losses of 2017.
On its paid and unpaid non-life and life reserves at the end of 2017, 37% of PartnerRe's reinsurance recoverables were due from reinsurers with an A- or better rating from Standard & Poor's, with the remaining 63% due from collateralized reinsurance entities.
A year earlier, while the reinsurance recoverables were much lower, due to the lower level of claims, 59% of them were due from A- or better rated reinsurers.
This shows two things, that PartnerRe benefitted as major losses caused its collateralized retrocession to attach and payout in 2017, but also that as the reinsurers losses rose collateralized capacity increasingly featured as a provider of protection.
So a lot of this will be down to where the different types of retrocessional reinsurance attached. But PartnerRe, like so many other reinsurers of similar size, are increasingly finding collateralized capacity, be that from ILS funds, retro specialists or other reinsurers that collateralize their obligations, as the most efficient sources of capacity to find the protection against peak peril losses.
Reflecting the impacts of 2017 catastrophe events, PartnerRe's non-life reserves increased by $725 million over the course of the year and the company reported that it ceded over $617 million of losses and loss expenses to retrocessionaires during the year, up from just $165 million in 2016.
PartnerRe's reinsurance and retro partners demonstrated their value in 2017, perhaps playing a key role in helping the reinsurer to deliver a positive return for 2017, it reported net income of $218 million for the full year 2017.
———————————————————————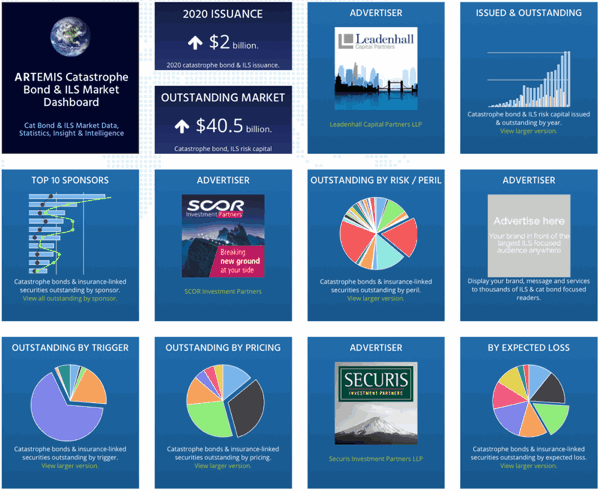 Analyse catastrophe bond market issuance using the Artemis Dashboard and Charts.
We've tracked more than 650 cat bonds and related ILS transactions since 1996, all of which are included in our extensive Deal Directory.
Use the Artemis Dashboard and our Cat Bond Market Charts to analyse this market!