Technology giant Microsoft has entered into three transactions involving the world's largest insurance and reinsurance linked investment manager Nephila Capital, as the company looks to hedge the weather risk associated with renewable energy production, making its energy costs more secure in the process.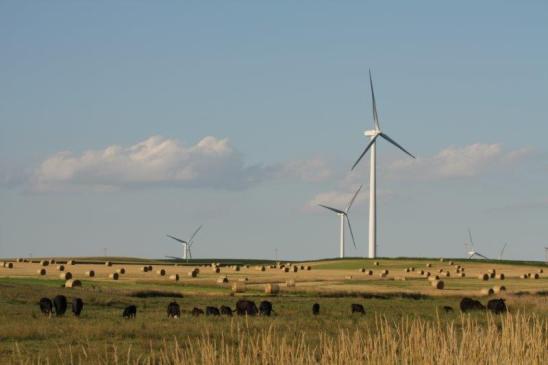 Nephila Capital, through its weather and climate risk transfer focused unit Nephila Climate, alongside its often partner Allianz and ReSurety, a company that helps clients understand and manage the risks associated with renewable power generation, have worked with Microsoft to deliver a solution that the group of companies hope will be more widely adopted.
Microsoft has become a significant proponent for adopting renewable energy, with wind power one area the tech giant has been investing significant time and money as it looks to secure its access to clean energy sources for the future.
Still, risks associated with renewable energy production cause major corporations to look for ways to secure the price paid for power over long-periods, giving them certainty in their energy costs, but weather is one variable which adds significant uncertainty to these arrangements.
This is where Nephila Capital comes in, being one of the most experienced (if not the) weather risk transfer experts in the world and also offering efficient insurance solutions, being backed by reinsurance capital pooled from its capital markets investors.
Nephila and Allianz entered into their first wind energy swap transaction with Microsoft back in 2016, putting the innovative wind farm weather hedging revenue product created by Allianz Risk Transfer (ART) and Nephila Capital to use to help offset high costs associated with the creation of large-scale wind projects for the tech giant.
Dubbed the wind farm Proxy Revenue Swap at the time, this product acts as a tool for hedging wind volume risks at wind farms, allowing owners and investors to secure more predictable revenues and mitigate power generation volume uncertainty caused by a lack of wind resources.
It also helps those looking to buy energy from wind-farms with the ability to protect that investment, offering increased certainty in generation volumes and hedging out the wind volume risk associated with the production of energy.
Now, Microsoft benefits from three transactions in total, all entered into with the support of Allianz as insurance partner, Nephila Capital as weather risk transfer expert and source of efficient reinsurance (or insurance) capital, and ReSurety as the analytics provider to support the underwriting of the hedge and acting as calculation agent as well.
The partners have now further developed the product and are calling it a volume firming agreement (VFA), which Microsoft, in addition to co-developing it, has become the first adopter of.
The VFA can provide corporates that procure renewable energy through power purchase agreements (PPAs) with greater certainty of energy volumes and revenues, hedging out weather risks associated with these contracts.
Microsoft and ReSurety explained, "VFAs are intended to be a simple fix to a big challenge with renewable energy PPAs, namely that these deals expose the buyer to all the weather-related risks of power production, and the inherent intermittent nature of wind and solar means there are hourly issues to be addressed. Put simply, the power needs of buyers are static but the power from the project varies on a day-to-day, hour-to-hour basis."
The variability and uncertainty associated with wind and solar energy inputs to power generation makes these contracts more volatile, so the VFA and associated weather risk transfer can smooth out the volatility, providing greater certainty in power generation and maximising the return on a PPA investment.
"VFAs effectively remove the risk related to how future weather conditions will impact the financial value of a PPA from buyers and reallocates it to people who want that risk," the companies explained.
Microsoft sees the adoption of these techniques as key to transitioning to a renewable energy future, as by removing the weather risk and uncertainty from these contracts it can help corporate renewable energy buyers to scale up far more quickly, which should stimulate increasing adoption of renewables and ultimately green energy sources.
The VFA sits atop a PPA contract, acting as a tool to mitigate the weather risk for the buyer.
Microsoft has now signed three of these VFA contracts with Allianz alongside its partner Nephila Capital, covering three wind projects in the U.S. in Texas, Illinois and Kansas, totaling almost 500 megawatts.
The technology firm expects to continue utilising VFAs as its purchasing of renewable energy expands to power its global operations, anticipating using VFAs "to firm the energy and match our consumption on an hourly basis."
That suggests more similar transactions will be entered into, which Nephila Capital will benefit from as a way to put more of its third-party investor backed insurance and reinsurance capital to work.
For energy buyers, what's important is predictability and low volatility in terms of energy production output, availability and costs, which this product helps to deliver.
Microsoft is backing the product and alongside ReSurety invites other corporate buyers of renewable energy to explore the application of this weather risk transfer tool in providing more secure renewable power costs, through a whitepaper published by Microsoft, REsurety and lawfirm Orrick, Herrington and Sutcliffe LLP.
Register today for ILS NYC 2023, our next insurance-linked securities (ILS) market conference. Held in New York City, February 10th, 2023.
Get a ticket soon to ensure you can attend. Secure your place at the event here!