Nephila Climate, the recently launched weather and climate risk focused unit of ILS and reinsurance investment giant Nephila Capital, has completed a new transaction along with its often partnering insurer Allianz, which is the first solar farm proxy revenue swap transaction.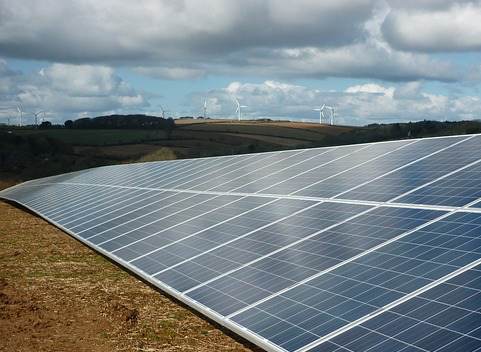 Nephila Climate worked with Allianz Global Corporate & Specialty SE's alternative risk transfer unit (Allianz ART) on the deal and today announced the successful closing of the transaction, which are the first set of solar Proxy Revenue Swaps.
The swaps have been completed for two solar projects in Australia, the Susan River Solar and Childers Solar facilities and the two five-year transactions will provide the new solar projects' with revenue protection against volume uncertainty.
These revenue swap deals, which Nephila and Allianz have used four times for wind farms (the most recent earlier this year), can protect the project owners and financiers against the financial risks associated with uncertain production volume, timing of energy generation and also future energy prices.
This pair of solar revenue swaps protect the 98 MW Susan River Solar farm and 78 MW Childers Solar farm, which are both owned by subsidiaries of Elliott Green Power, Ltd.. Both of the solar farms are located in South East Queensland, Australia and Elliott announced financing was closed for the projects in January 2018 and their construction is expected to take nine months.
This pair of deals are the first time the Proxy Revenue Swap has been applied to a solar farm, since the hedging product was launched in 2016 with a focus on de-risking wind farms projects.
Nephila Climate's CEO Richard Oduntan commented on the deal, "NCx is delighted to see the expansion of the Proxy Revenue Swap to Australia and to solar projects. We are pleased that the availability of such customized risk capacity served a critical role in helping to de-risk these two solar projects."
Elliott Green Power's CEO, Umberto Tamburrino, added, "We are delighted to partner with NCx and Allianz on this innovative transaction, and look forward to expanding our relationship with them in the future."
Allianz's Managing Director, Karsten Berlage also said, "We are excited to create and commercialize this new risk management tool for the solar industry following our successful provision of hedging solutions for investments in the wind sector."
These transactions closely link the potential downside associated with solar risk for investors and owners, helping to smooth and reduce uncertainty in future revenues, which can assist them in securing their financing.
By hedging out the weather related risk associated with investments in a solar farm, investors, buyers or owners, can smooth revenue and earnings volatility, receiving payouts when sunlight is insufficient to support the solar generation volumes targeted.
The partnership between Allianz Risk Transfer and Nephila brings collective expertise in weather risk transfer and renewables, as well as insurance and reinsurance risk capacity, underwriting sophistication and credit strength, to facilitate these transaction for solar project owners and developers.
Specialist ILS and catastrophe reinsurance fund manager Nephila Capital works alongside Allianz ART, facilitating the weather risk transfer and as a risk or reinsurance capacity provider.
Nephila and Allianz have been working in partnership on weather and catastrophe risk transfer and reinsurance transactions for many years, developing innovative solutions to vertical focused problems such as this one for solar farms.
Register now for our upcoming ILS conference. Tickets on sale here.


View all of our Artemis Live video interviews and subscribe to our podcast.
All of our Artemis Live insurance-linked securities (ILS), catastrophe bonds and reinsurance video content and video interviews can be accessed online.
Our Artemis Live podcast can be subscribed to using the typical podcast services providers, including Apple, Google, Spotify and more.