Jardine Lloyd Thompson Capital Markets (JLTCM) Inc. has closed on another catastrophe bond using its Market Re private ILS issuance platform. The $30m Market Re Ltd. (Series 2014-4) is the first cat bond on the platform to use a parametric trigger.

Following quickly on the heels of Market Re Ltd. (Series 2014-1) from May and Market Re Ltd. (Series 2014-2) from June and showing the promise of the private cat bond platform, JLTCM has brought another cat bond lite type deal to market for an unnamed sponsor.
The Market Re 2014-4 transaction sees a new peril and new trigger being issued through the Market Re platform. The Series 2014-4 deal features two tranches of notes, a Class A tranche of $22m and a Class B trance at $8m, being issued. The $30m of notes combined will provide the unnamed sponsor with a two-year source of fully-collateralized reinsurance cover for North American earthquake risks.
The Market Re 2014-4 cat bond features a parametric trigger, the first such trigger under the new platform. Both the previous Market Re deals were indemnity based and also both were covering Florida named storm risks, so it's encouraging to see the diversity coming with this deal which should help to encourage other sponsors to use these issuance facilities.
"We continue to see the momentum of deals increasing. Both cedants and investors are recognizing the opportunity and value of transacting via cat bonds," said Michael Popkin, Managing Director and Co-Head of Insurance-Linked Securities at Jardine Lloyd Thompson Capital Markets. "With each transaction, we are expanding the number of investors who are familiar with the Market Re platform."
As well as bringing a new peril and a new trigger to the Market Re platform, it's encouraging for the JLTCM platform to hear that the investor base backing these deals is growing. That should enable sponsors to perhaps put larger deals through Market Re, we could see $100m+ deals going through these facilities to take advantage of the issuance cost savings, but also provides the broad backing that a regular issuance would require.
"Market Re allows us to customize risk transfer for our clients and then convert these into cat bonds in a scalable way that makes it efficient for cedants and investors alike," added Rick Miller, Managing Director and Co-Head of Insurance-Linked Securities at Jardine Lloyd Thompson Capital Markets. "The Market Re transactions are definitely enabling us to open up the cat bond market to more cedants."
The cedant in this case requested the tranches approach to the cat bond, so resulting in the issuance of both Class A and Class B notes. Both tranches are identical in every way except for size, but this is how the cedant requested it which we would assume is to better fit within their overall reinsurance programme tower. Both tranches of notes will pay investors a coupon of 4%, according to JLTCM.
Another factor with Market Re which the sponsors of cat bonds are appreciating is the anonymity, according to JLTCM. "Market Re allows for a cedant to remain anonymous, which is the case here. This is one of the other advantages of Market Re, which cedants are finding valuable," said Michael Popkin.
Also of note is the fact that the cedant funded the interest upfront, so ensuring the payment will always be there for investors and removing any question of credit risk. This is a sensible approach, particularly if the cedant is new to the insurance-linked securities (ILS) market and building relationships with investors for the first time.
"We are excited to see the continued evolution of the Market Re platform and its ability to deliver diversifying risks into the capital markets," noted Ed Hochberg, CEO of Jardine Lloyd Thompson Capital Markets.
Interestingly there will be more to come from Market Re, perhaps in the not too distant future, as deal number 3 is in the works. Eagle eyed readers will have noted that the series numbering has skipped three, but JLTCM told us that it is always working on a number of private deals, especially now the Market Re platform and that some move quicker than others.
The Market Re platform is showing its worth three deals in, demonstrating the ability to allow cedants to benefit from issuing private cat bonds featuring a diverse range of perils, triggers, structures and deal terms. It will be interesting to watch how the platform develops.
We've added Market Re Ltd. (Series 2014-4) to the Artemis Deal Directory.
———————————————————————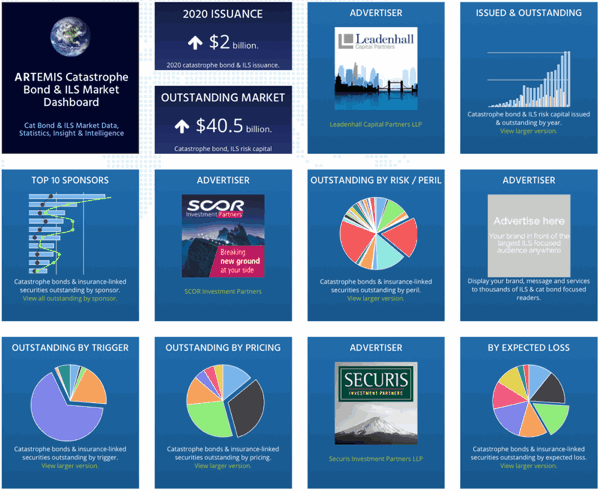 Analyse catastrophe bond market issuance using the Artemis Dashboard and Charts.
We've tracked more than 650 cat bonds and related ILS transactions since 1996, all of which are included in our extensive Deal Directory.
Use the Artemis Dashboard and our Cat Bond Market Charts to analyse this market!