The insurance and reinsurance industry loss estimate for European windstorm (or extratropical cyclone) Xavier, that hit Germany in October 2017, has been finalised at EUR 324 million by catastrophe data loss aggregation and estimation firm PERILS AG.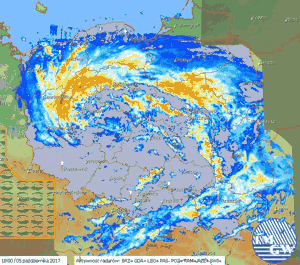 PERILS said the final industry loss estimate for storm Xavier is based on loss data collected from affected insurers.
This last estimate is just slightly down from the third PERILS loss estimate of EUR 325 million which was issued six months after the event and this final loss figure has been issued twelve months after the storm date of loss.
PERILS explained that, "Xavier was a fast-moving and violent storm which caused the deaths of seven people in Germany. It occurred very early in the European winter storm season which meant that many trees were still heavy with leaves and therefore more prone to being blown over than had the same winds occurred during the winter months."
The firm explained the storms impacts further saying, "Damaging gusts occurred along a narrow corridor approximately 250 km wide which ran ENE-WSW from Hamburg to Berlin and affected the states of Hamburg, Lower Saxony, Saxony-Anhalt, Brandenburg and Berlin."
The impact of European windstorm Xavier's market loss will largely be dealt with in the primary insurance market, with only a little of the total potentially having fallen to reinsurance capital, largely from the major European firms.
Those major European reinsurance firms could also have shouldered some of the loss through their industrial and corporate underwriting arms.
View all of our Artemis Live video interviews and subscribe to our podcast.
All of our Artemis Live insurance-linked securities (ILS), catastrophe bonds and reinsurance video content and video interviews can be accessed online.
Our Artemis Live podcast can be subscribed to using the typical podcast services providers, including Apple, Google, Spotify and more.