A market diversified portfolio of catastrophe bonds could have beaten the returns of many asset class benchmarks during the first-quarter of 2o18, despite increasing hurricane losses from prior year catastrophe events, as a low volatility, peril diversified approach to ILS investing demonstrated its robustness.

As investments in insurance or reinsurance risk go, a broad spread of the outstanding cat bond market could have provided a positive return in Q1 of 2018, as demonstrated by Aon Securities All Bond index, which tracks the performance of all outstanding catastrophe bonds in the market and includes both price and coupon return.
On the other hand, a cat bond strategy focused on U.S. hurricane risks, where the majority of the market returns are often made, could have been in negative territory for the quarter, after increased hurricane Irma loss estimates hit some positions.
That said, according to data from Aon Securities, even a U.S. hurricane focused cat bond portfolio could have fared better than the S&P 500 in Q1 2018.
For the first-quarter of the year, the Aon All Bond ILS index returned 1.45%, while the Aon U.S. Hurricane Bond index fell to a negative -1.17% return.
The main driver of the U.S. hurricane cat bond index negativity was, "an increase in losses from Hurricane Irma for one of the bonds in the market," Aon Securities explained.
The fact a single bond can drive an entire index of U.S. hurricane cat bonds to a negative return for the quarter reflects the size of the mark down of that position.
It also helps to underscore the benefits of diversification within cat bond portfolios, as the more positions the less likely it is that one cat bond loss or potential loss could drive a portfolio to a decline.
While the U.S. Hurricane Bond index was down for the quarter it still managed to beat one of its benchmarks, according to Aon Securities, as the S&P 500 fell to a -1.22% return for the period.
Impressively though, the market diversified Aon All Bond index beat every benchmark that Aon Securities tracks, with its positive 1.45% return for Q1 2018 well ahead of all of the broader financial metrics (see below).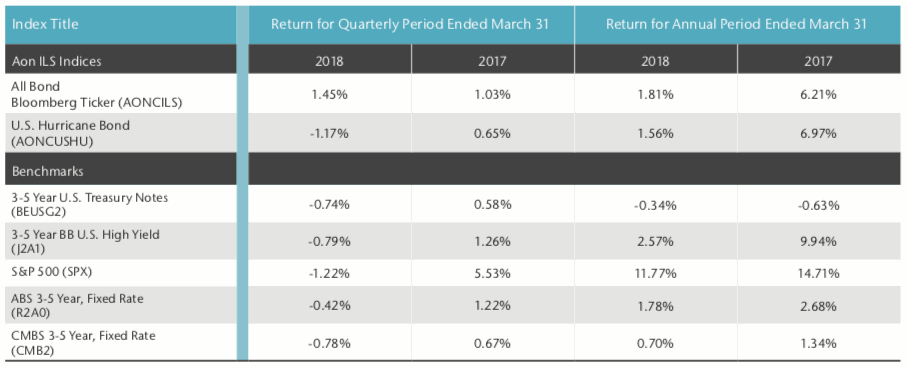 On an annual basis, while down on the prior year, both of the Aon ILS Indices still beat some of the benchmarks, with the market diversified All Bond index looking particularly healthy when you consider that the catastrophe bond market has faced its largest losses ever during the period.
It's also impressive that the U.S. Hurricane Bond index was positive for the year, given the driver of the majority of cat bond losses during the period was the hurricane activity of 2017.
Register now for our upcoming ILS conference. Tickets on sale here.