The world of insurance and reinsurance linked investment opportunities is much bigger than just the catastrophe bond and insurance-linked security funds. There are many ways to put money to work as an interested investor, from funds, to equity plays, to collateralized reinsurers to sidecars. One sidecar vehicle, Bermudian reinsurer RenaissanceRe's sidecar vehicle DaVinci Re, has just secured a new commitment from a U.S. state pension fund.

The Fire and Police Pension Fund of San Antonio provides comprehensive retirement, death and disability benefits for the City of San Antonio's approximately 6,038 police officers, firefighters, retirees and their beneficiaries. They've clearly seen the benefits of making an allocation to an insurance-linked investment opportunity as in their recent board meeting they allocated $10m to five hedge funds, one of which according to this article from Pensions & Investments and the meeting minutes was DaVinci Reinsurance.
This is becoming an increasingly common occurrence, where large pension funds are allocating small commitments to alternative investment opportunities, with insurance-linked funds and vehicles being one of the beneficiaries of the asset injection. It's clear that the pension fund world are becoming much more highly educated in the opportunity to achieve uncorrelated, market beating returns from ILS and other insurance investments. We can attest to this given the growing proportion of our readership who come from these types of investor.
If the interest in our sector from large pension funds and other institutional investors continues, then we can only assume that the amount of opportunities to deploy capital will increase to satisfy demand. It is going to be interesting to see how increasing high demand to put capital work from investors competes with the reinsurance cycle in 2012 and where the opportunities will spring up and commitments be placed.
———————————————————————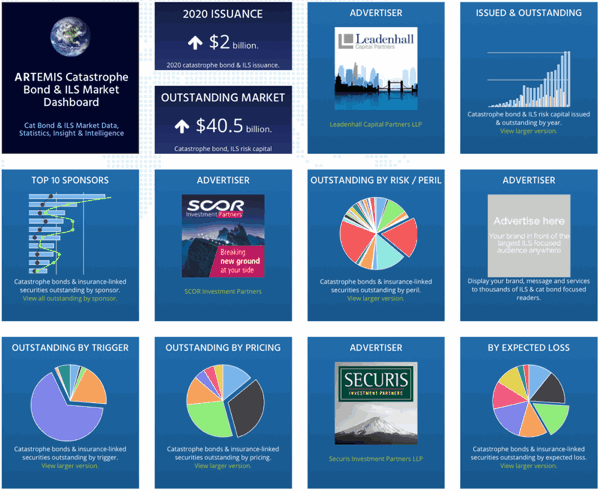 Analyse catastrophe bond market issuance using the Artemis Dashboard and Charts.
We've tracked more than 650 cat bonds and related ILS transactions since 1996, all of which are included in our extensive Deal Directory.
Use the Artemis Dashboard and our Cat Bond Market Charts to analyse this market!