A significant large hail event that struck the Dallas area of Texas in the early hours of the 6th June is expected to result in insurance and reinsurance industry losses of around $425 million, according to the Insurance Council of Texas.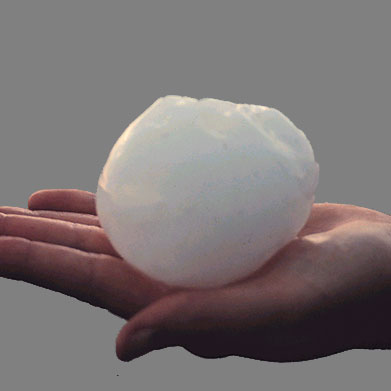 As the severe convective or thunderstorm type weather approached the metro area of Dallas it was forecast that large hail of up to baseball size would strike highly populated areas.
Large hail has become one of the biggest contributors to annual insurance and reinsurance industry losses, but so far 2018 has not seen as many major convective weather events as other recent years.
But the hailstorm that hit Dallas is likely to become one of the larger loss events of the year so far, with Mark Hanna, spokesperson for the Insurance Council of Texas saying that damage to homes and autos is expected to cost insurers an estimated $425 million.
Aon's Impact Forecasting division said that the losses stand a good chance of being higher, saying that the $425 million estimate, "Should be considered very preliminary and subject to change. When including the total period from June 3 – 6, which also includes further hail and wind damage throughout Texas and New Mexico, the total insured loss will likely be a notable uptick from the June 6 ICT initial estimate."
It's reported that the Insurance Council estimates that as many as 20,000 homes received some level of damage from the hailstorm, as well as 25,000 vehicles.
Hail is not unusual, but this particular storm brought very large hailstones to a highly populated area, increasing the potential for major insured losses as a result.
Large hail was reported outside of Dallas as well, in Collin, Denton and Tarrant counties as well.
The Insurance Council reported:
Just after midnight, strong storms packing hail as large as baseballs caused extensive damage to homes and vehicles in the cities of Carrolton and Coppell just north of Dallas. Residents are reporting vehicles with windshields that have been knocked out and homes whose skylights and windows have been broken.

The National Weather Service Office in Fort Worth said the storm developed rapidly over Denton and northwest Collin County before splitting into two separate storms. It was the storm that moved westward over Denton and across the Dallas/Tarrant County line that produced large hail and strong wind gusts.

Golf ball size hail was reported in portions of Arlington and Irving. Jayson Godwin with the National Weather Service said the storm system moved out of the area around 3 a.m.
It's uncertain whether the loss from this hailstorm will rise much further, but there clearly seems the potential for it to become one of the larger hail events of the year so far, with a chance of eroding some reinsurance aggregates on traditional and collateralized contracts.
Register now for our upcoming Singapore conference. Tickets on sale here.


Register today for ILS Asia 2023, our next insurance-linked securities (ILS) market conference. Held in Singapore, July 13th, 2023.
Get a ticket soon to ensure you can attend. Secure your place at the event here!