The Chicago Mercantile Exchange (CME) has issued a press release announcing their intention to widen the scope of snowfall futures and options which can be traded on the exchange. Four new locations will be added for monthly and seasonal snowfall futures and options while new Snowfall Index Binary Options Contracts are to be launched for the first time. The new locations and index options are scheduled to be made available on December 7th.

The monthly and seasonal snowfall contracts are being made available at these four new locations: New York LaGuardia Airport, Chicago O'Hare International Airport, Minneapolis/St. Paul Airport and Detroit Metro Airport. These allow market participants to manage exposure to snowfall risks. The new binary options allow businesses to hedge against snowfall being more or less than expected.
Barry Goldblatt, Managing Director of CME Group Commodity, Energy and Metals Products said; "We believe the new binary options will provide customers with an efficient way to hedge potential losses on their businesses if it snows more or less than they plan. A snow removal company, for example, can better manage their loss in revenue in the event of a less-than-expected amount of snowfall during the snow-removal season".
Snowfall contracts have been available at two locations (Central Park NY and Boston Logan Airport) since 2006. It's good to see this being expanded as this indicates that interest has been high enough to make this worthwhile for the CME.
The weather derivatives and futures markets have been pretty quiet of late, at least as far as the press goes, but activity is still flourishing on the CME and the market seems to be revolving around exchange based products right now.
———————————————————————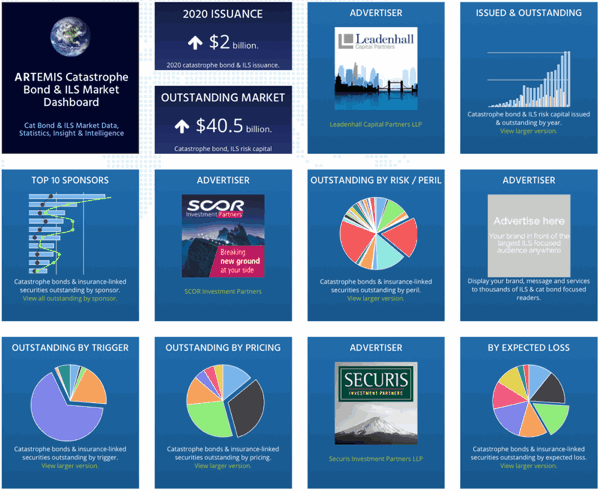 Analyse catastrophe bond market issuance using the Artemis Dashboard and Charts.
We've tracked more than 650 cat bonds and related ILS transactions since 1996, all of which are included in our extensive Deal Directory.
Use the Artemis Dashboard and our Cat Bond Market Charts to analyse this market!