Our latest quarterly report on the catastrophe bond and insurance-linked securities (ILS) market is now available to download. The report, 'Q1 2018 – Market buoyant despite 2017 catastrophes', analyses a record first-quarter featuring $4.24 billion of issuance, which drove the outstanding market to a new high at $32.83 billion.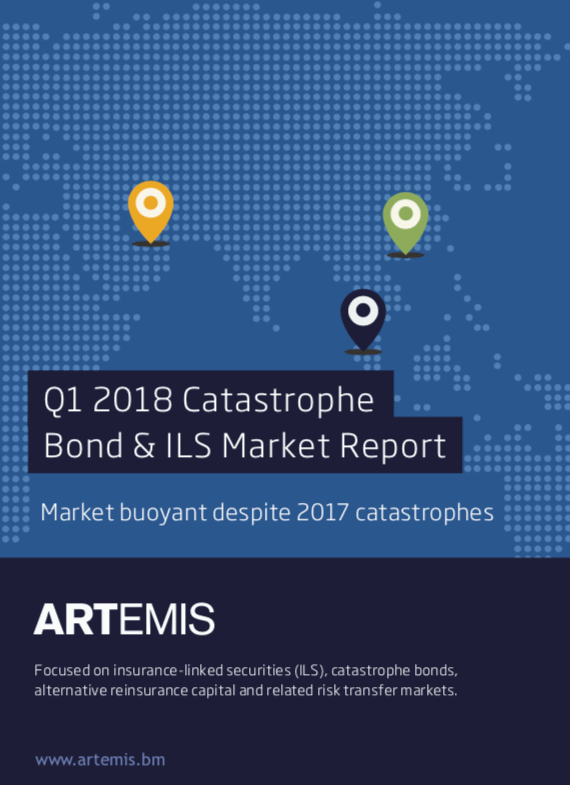 This report reviews the catastrophe bond and insurance-linked securities (ILS) market at the end of the first-quarter of 2018, looking at new risk capital issued and the composition of transactions completed during the busiest first-quarter of insurance-linked securities (ILS) market history.
For the fifth consecutive year, catastrophe bond and ILS issuance broke records in the first-quarter, with approximately $4.24 billion of new risk capital brought to market from 23 tranches of notes via 17 deals. Data from the Artemis Deal Directory shows that this is the first time Q1 issuance has surpassed $4 billion.
A diverse spread of sponsors came to market in the first-quarter of 2018, including both repeat and first time market entrants that were seeking insurance, reinsurance and retrocessional protection.
In total, five first time sponsors entered the market in Q1 2018, including the Republics of Chile, Colombia, and Peru, Aioi Nissay Dowa Insurance Co., Ltd. and Essent Guaranty, while four transactions, or roughly $133 million of first quarter issuance was privately placed.
Despite the impacts of catastrophe events in the second-half of 2017, catastrophe bond and ILS investors took advantage of a strong issuance pipeline in the opening three months of 2018, clearly remaining attracted to the asset class in spite of recent losses.
Sponsors and ceding companies capitalised on this robust investor interest, resulting in efficient execution of new cat bond deals, with the majority increasing in size and their coupon prices dropping while they were marketed.
As a result of this issuance activity, the outstanding cat bond market size at the end of the first-quarter of 2018 hit $32.83 billion, which represents outright market growth of almost $1.8 billion since the end of 2017.
The average transaction size in the first-quarter of 2018 was approximately $249 million across the 17 transactions, which is above the ten-year average deal size of $187 million, and 8 above the average number of transactions completed.
The 17 transactions recorded in Q1 2018 makes it the most active first-quarter ever, in terms of the number of deals as well as their size and the overall issuance volume.
The quarter began more slowly than in previous years, with January witnessing just $205 million of issuance from two transactions, making it the slowest month of the first-quarter. However, this quiet start was more than offset by roughly $1.5 billion of issuance in February, from eight deals, combined with over $2.4 billion of issuance in March, from seven deals.
ILS investors were treated to both geographical and peril diversification during the first-quarter of 2018, with the balanced mix of risks on offer helping to stimulate investor appetite right through the period.
Almost every cat bond issued in the first-quarter of 2018 saw its pricing settle at a level below the initial price guidance, reflecting the strong investor appetite and the robust ability of the cat bond market to bounce back after its losses from 2017 catastrophe events, to continue providing sponsors with very efficient reinsurance and retrocession capacity.
The catastrophe bond and ILS market's response to 2017 catastrophe events and its ability to bounce back highlight the sophistication and maturity of the investor base. The willingness and appetite of investors to support sponsors reinsurance and retrocession needs resulted in another quarter of record issuance and outright market growth.
With just over $2.7 billion of maturities scheduled for Q2 2018, just an average level of new deal activity in the period would result in the market once again achieving outright growth. Already there are now five catastrophe bonds being marketed for Q2 issuance, promising roughly $700 million of new risk capital issued at a minimum, so achieving further growth seems assured as the pipeline remains strong and further new deals are expected over the coming weeks.
We now anticipate that momentum will continue in the catastrophe bond market through 2018, with this record first-quarter laying the foundations for what could turn into another record year.
Stay tuned to Artemis and we'll keep you updated as the catastrophe bond market continues to evolve and expand.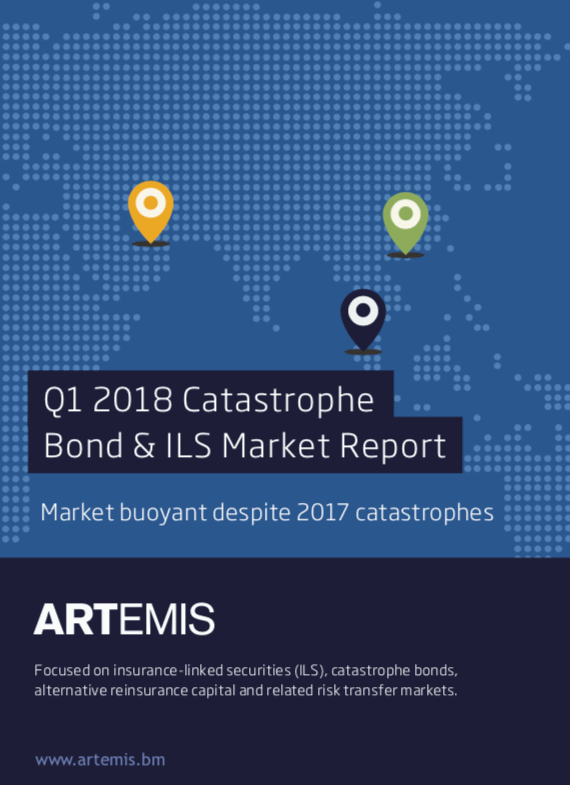 For full details of the record first-quarter of 2018, including a breakdown of cat bond issuance by factors such as perils, triggers, expected loss, and pricing, as well as analysis of the issuance trends by month and year, download your free copy of Artemis' Q1 2018 Cat Bond & ILS Market Report here.
For copies of reports from previous quarters, visit our archive page to download them all.
———————————————————————

View all of our Artemis Live video interviews and subscribe to our podcast.
All of our Artemis Live insurance-linked securities (ILS), catastrophe bonds and reinsurance video content and video interviews can be accessed online.
Our Artemis Live podcast can be subscribed to using the typical podcast services providers, including Apple, Google, Spotify and more.
—————————————

Register now for our upcoming ILS conference, July 12th 2018, Singapore