The spread of excess returns possible between expected loss and catastrophe bond yields at issuance narrowed slightly during the second-quarter of 2018, as the weight of capital pressured rates causing multiples also to dip slightly, data from Artemis shows.

The market experienced high demand on both sides in the second-quarter of 2018, as ILS funds and investors demonstrated a strong appetite for more investments into catastrophe bonds and ceding companies demonstrated their commitment to securing efficient reinsurance protection, which together helped to drive issuance for the quarter to $5.151 billion from 26 deals, taking H1 2018 issuance to $9.39 billion.
As ever, the appetite to invest in new issues of securitised property catastrophe risk has helped to narrow the available spread, or excess return, between expected loss and coupons that is available to investors.
The continued growth of the ILS market and the strong demand for reinsurance risks as an alternative asset class keeps driving alternative capital in the market to new highs, $100 billion plus by our reckoning, having a dampening effect on rates.
Of course this also has a moderating effect on pricing of protection for the ceding companies, which is a positive for the cost of reinsurance and retrocession.
Spreads, the gap between expected loss and coupon, narrowed during the second quarter of the year and now stand narrower for 2018 so far than they were recorded as by Artemis for the full year 2017 average.
2017 saw an average coupon of 6.51% and average expected loss of 3.5% across all of the year's issuance that was recorded by Artemis in our Deal Directory, so the spread between the two was 3.01%.
For 2018 so far, the average coupon is slightly lower at 5.23% and expected loss at 2.65% is also lower, but this means the spread between the two has narrowed to 2.58% so far this year, as you can see in the chart below (click the chart for an interactive version).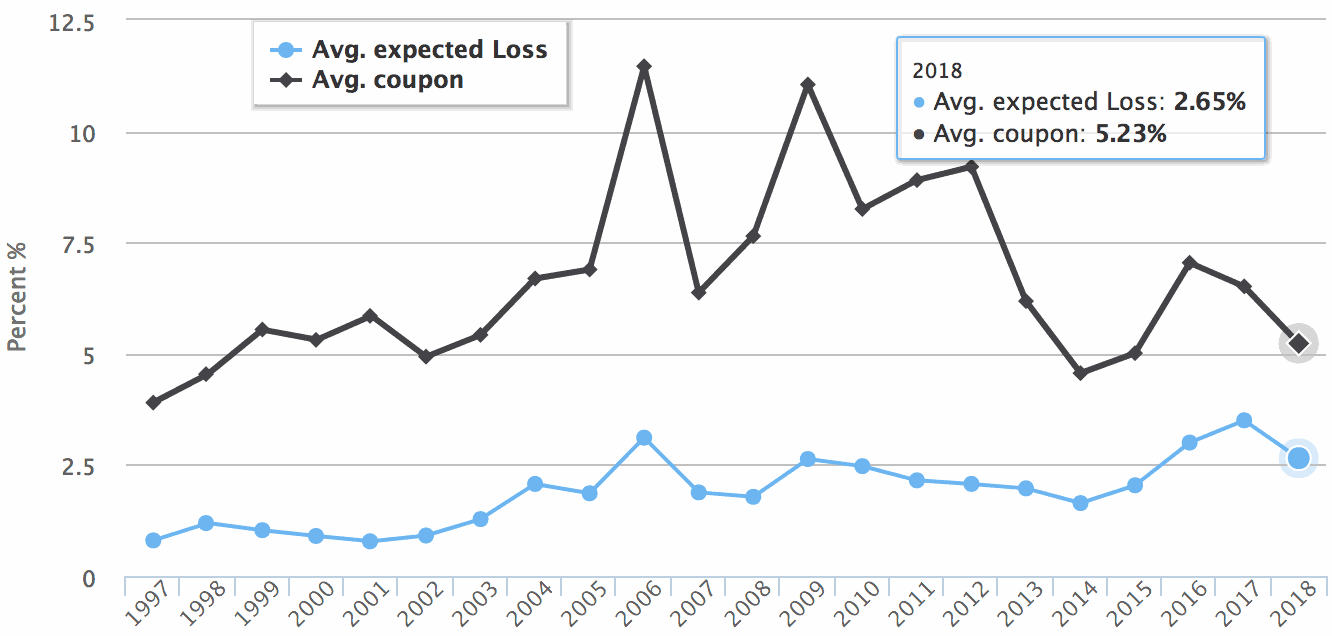 Note, this is not risk adjusted, purely the averages of the transactions that Artemis recorded in each period.
However, the multiple of expected loss to coupon has risen somewhat, which suggests that ILS funds and ILS investors are perhaps achieving a better risk-adjusted return in 2018, despite the dip in spreads available at issuance in the market which can perhaps be better explained by the specific deals on offer so far this year.
Artemis' data shows that multiples at market experienced a slight rise so far in 2018, over the prior year, although this is more a function of the mix of deals offered and as it doesn't yet feature a full year for comparison there is every chance the multiple for 2018 declines as the year progresses. Click the chart below for an interactive version.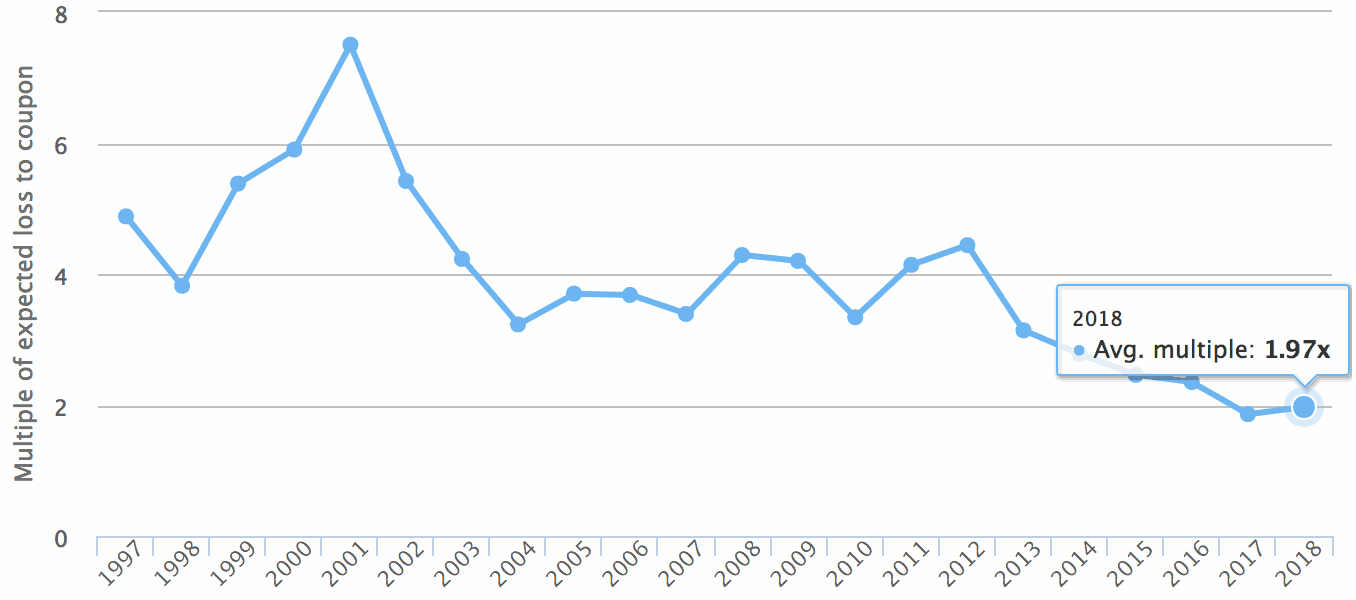 Again, this isn't risk adjusted, but provides a basic view of the average multiple at market for catastrophe bond issuances that we track here at Artemis.
For full details of the second-quarter of 2018, including a breakdown of cat bond issuance by factors such as perils, triggers, expected loss, and pricing, as well as analysis of the issuance trends by month and year, download your free copy of Artemis' Q2 2018 Cat Bond & ILS Market Report here.
For copies of all our reports, visit our archive page and download them all.
Don't forget to check out our Cat Bond Market Dashboard as well, for a snapshot of the ILS market, and our range of catastrophe bond market charts and data visualisations which allow you to analyse the outstanding market in more detail.
Note: Artemis' data on catastrophe bond issuance includes every transaction we can source information on, including private deals, new diversifying insurance perils, and the usual 144A broadly marketed property catastrophe issues. Hence our figures are typically higher than those quoted by reinsurance broker reports, but we feel this offers a holistic look at market activity.
———————————————————————

View all of our Artemis Live video interviews and subscribe to our podcast.
All of our Artemis Live insurance-linked securities (ILS), catastrophe bonds and reinsurance video content and video interviews can be accessed online.
Our Artemis Live podcast can be subscribed to using the typical podcast services providers, including Apple, Google, Spotify and more.
—————————————