The catastrophe bond and related insurance-linked securities (ILS) market has reached a new high, according to Artemis' latest data on the market, as 2018 issuance sets a record pace in passing $5.7 billion already, while the outstanding market has hit a new record size at $33 billion.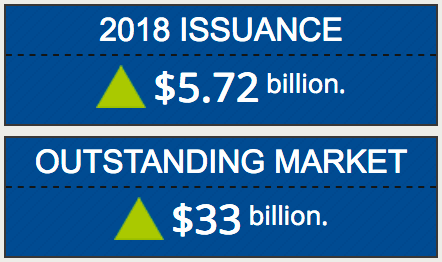 For the year to April 30th 2018, Artemis has now recorded an impressive $5.7 billion of new risk capital issued in catastrophe bonds and related ILS transactions.
This is the fastest start to any year in the ILS market's history, according to data from the Artemis Deal Directory, which tracks the cat bond market back to 1996.
Underscoring just how impressive the activity levels in the catastrophe bond and related insurance-linked securities (ILS) market has been so far in 2018, by our reckoning the market is currently outpacing 2017's issuance by $1.2 billion.
This record pace of new cat bond and related ILS issuance has now driven the outstanding market to a new record high of $33 billion, the first time in history that there has been so much risk capital outstanding from catastrophe bonds and related ILS.
The brisk start to cat bond and related ILS activity in 2018 followed the record year of 2017, when we recorded $12.6 billion of new risk capital brought to market.
The first-quarter of 2018 began strongly, with roughly $4.24 billion of new risk capital brought to market from 23 tranches of notes via 17 deals, as detailed in Artemis' latest quarterly cat bond and ILS market report.
The second-quarter has followed suit, with activity levels helping to drive catastrophe bond issuance and the outstanding market even higher by the end of April.
As of today, with the completion of the latest Kilimanjaro Re cat bonds from mega-sponsor Everest Re (which now has a huge $2.9 billion of cat bonds outstanding), there have now been 26 completed transactions that we've recorded in our Deal Directory, featuring a record $5.7 billion of risk capital issued.
A year ago, in the record 2017, by the end of April there were 25 transactions that had been completed, according to our data, but the total risk capital issued was much lower by this stage of the year, at $4.5 billion.
So 2018 is setting a new pace for cat bond and related ILS issuance, as the use of the securitized 144a product for reinsurance and retrocession becomes increasingly commonplace and with investor demand at perhaps its highest level ever we currently see no sign of things slowing down.
Insurance and reinsurance firms seem to be more aware of the efficiency of ILS capital than perhaps ever before. Following the loss events of 2017 and the ILS markets ability to recapitalise and continue to provide reinsurance or retro at attractive rates, we're now beginning to see new sponsor interest in the catastrophe bond and related ILS product suite.
This bodes well for ongoing issuance throughout 2018, especially with transactions offering roughly $1 billion of risk capital set to complete in May and more likely to come to market this half as well.
While we may not see another half-year record, as the pace of issuance in May and June 2017 was so high, the market is certainly setting itself up for another possible $10 billion plus year in 2018 and further records in terms of risk capital outstanding.
At the moment, the average multiple at market of catastrophe bonds and related ILS we have the necessary data for is running slightly ahead of last year, perhaps reflecting a different mix of transactions rather than any higher pricing. This theory, that the mix of deals has changed rather than any higher pricing, is also borne out by the narrowing of the gap between average spreads (coupons) and expected loss, which shows the appetite of the market's investor base for risk.
Helping 2018 issuance to reach new highs, are new diversifying risks such as financial guarantee insurance exposures, and mortgage insurance risk securitisations which are off to a record start themselves this year. Details of these and every other catastrophe bond or related ILS can be found in the Artemis Deal Directory.
Don't forget to check out our Cat Bond Market Dashboard as well, for a snapshot of the ILS market, and our range of catastrophe bond market charts and data visualisations which allow you to analyse the outstanding market in more detail.
Note: Artemis' data on catastrophe bond issuance includes every transaction we can source information on, including private deals, new diversifying insurance perils, and the usual 144A broadly marketed property catastrophe issues. Hence our figures are typically higher than those quoted by reinsurance broker reports, but we feel this offers a holistic look at market activity.
Register now for our upcoming ILS conference, July 12th 2018, Singapore

———————————————————————

View all of our Artemis Live video interviews and subscribe to our podcast.
All of our Artemis Live insurance-linked securities (ILS), catastrophe bonds and reinsurance video content and video interviews can be accessed online.
Our Artemis Live podcast can be subscribed to using the typical podcast services providers, including Apple, Google, Spotify and more.
—————————————