Here are the ten most popular news articles, week ending 24th April 2016, covering catastrophe bonds, ILS, reinsurance capital and related risk transfer topics. To ensure you never miss a thing subscribe to the weekly Artemis email newsletter updates.



Top ten most viewed articles on Artemis.bm, week ending 24th April 2016:
This is by no means every article published on Artemis during the last week, just the most popular, some of which were published over a week ago. There were 28 new articles published in the last week. To ensure you always stay up to date with Artemis and never miss a story subscribe to our weekly email newsletter which is delivered every Wednesday.
Get listed in our MarketView directory of professionals.
View the current breakdown of the market in our range of charts, allowing you to analyse the cat bond market.
Artemis' Q1 2016 Catastrophe Bond & ILS Market Report – Another record first-quarter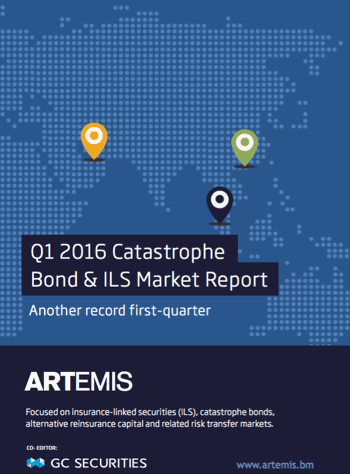 We've now published our Q1 2016 catastrophe bond & ILS market report.
This report reviews the catastrophe bond and insurance-linked securities (ILS) market at the end of the first-quarter of 2016, looking at the record $2.215 billion of new risk capital issued and the composition of the cat bond & ILS transactions completed during Q1 2016. The report also includes a review of global property catastrophe reinsurance pricing trends and commentary on dedicated reinsurance sector capital from co-editor GC Securities.
———————————————————————

Alongside our sister publication Reinsurance News, we've launched a new survey for the insurance, reinsurance and insurance-linked securities (ILS) industry, asking for your opinion on the market implications of the Covid-19 coronavirus pandemic. Answer our survey here.
Read Covid-19 coronavirus related news & analysis here.