Data from the Bermuda Monetary Authority (BMA) reveals that the total assets of special purpose insurers (SPI's) licensed in the region increased to roughly $34.34 billion as at December 31st 2015, while capital & surplus also increased when compared with the previous year, to approximately $4.5 billion.

The number of SPI licences increased from 86 at the end of 2014 to 115 at the end of 2015, representing growth of roughly 33%. All market statistics of Bermudian SPIs reported by the BMA in a recent report discussing the statistics of the Bermuda insurance and reinsurance market, increased as at December 31st 2015, when compared with the end of December 2014.
SPIs are utilised for various alternative reinsurance capital, or insurance-linked securities (ILS) issuances in Bermuda, which is a global hub for ILS business (which includes catastrophe bonds, sidecars, and other collateralised reinsurance transactions), as well as more traditional insurance and reinsurance practices.
Broken down, gross written premiums increased by approximately 29% to a reported $2.65 billion, compared with $2.04 billion at the end of 2014. Net premiums grew from $2.01 billion at the end of 2014 to approximately $2.44 billion at the end of 2015, which is growth of around 21%.
The largest growth recorded in the period for the SPI segment was seen with total assets of the combined 115 licensed SPIs, growing from approximately $18.3 billion at the end of 2014, to roughly $34.3 billion as at December 31st 2015, which is represents year-on-year growth of around 88%.
Following this, capital & surplus also recorded strong growth in the period, ending 2015 at roughly $4.5 billion, compared with roughly $2.5 billion a year earlier, so growth of 80%.
The alternative reinsurance capital, or ILS space continues to gain momentum, even during a testing time for the global insurance and reinsurance industry, where pressures are also being felt in the non-traditional space.
Investors and sponsors clearly remain interested and attractive to the diversification and low correlation benefits of the ILS asset class, a trend further supporting by the record level of catastrophe bond issuance seen throughout last year and that has continued into the first-quarter of 2017, as shown by the Artemis Deal Directory.
Join Artemis in Singapore on July 13th 2017 for ILS Asia, tickets on sale here


———————————————————————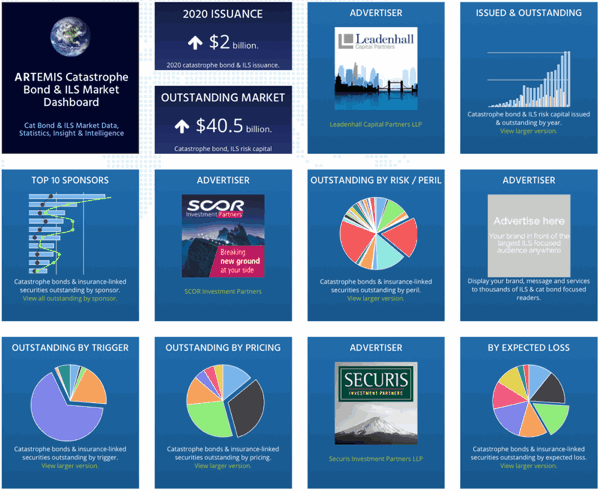 Analyse catastrophe bond market issuance using the Artemis Dashboard and Charts.
We've tracked more than 650 cat bonds and related ILS transactions since 1996, all of which are included in our extensive Deal Directory.
Use the Artemis Dashboard and our Cat Bond Market Charts to analyse this market!