The integration of insurance-linked securities (ILS) and alternative sources of capital into the Bermuda market is clearly shown in the declining retention rate of insurance and reinsurance firms, which are sharing increasing amounts of risk with ILS investors in order to earn fee income, according to Kroll Bond Rating Agency (KBRA).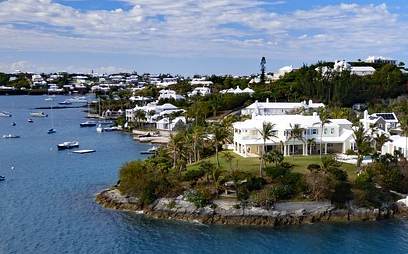 The Bermuda market continues to dominate the ILS and alternative reinsurance capital space, acting as the home to the majority of catastrophe bond transactions and many other collateralized reinsurance structures.
But while ILS and alternative capital has grown so rapidly there, encouragingly for the market Bermuda is also growing its traditional re/insurance business at the same time.
Kroll Bond Rating Agency (KBRA) notes that while the Bermuda insurance and reinsurance market faces pressures, largely competitive and related to the U.S. tax position, the ability of the market to innovate and its solid standing in the global financial world means that growth is expected despite the headwinds faced.
As of the end of 2016, the last official data available, the Bermuda reinsurance market contributed more than one-fifth of global reinsurer capital, KBRA notes, adding that the most striking aspect of this is that Bermuda's carriers capital base has grown much more rapidly than the rest of the global market.
Obviously the influence of alternative capital is strong in Bermuda and this has also been helping carriers to better manage their capital, make greater use of retrocession and most importantly find ways to earn additional fee income by becoming a partner to ILS investors and underwriting on their behalf, or sharing access to risks with them.
At the end of 2016 KBRA says that Bermuda accounted for roughly 57% of total global ILS market capacity, so catastrophe bonds and collateralized reinsurance structures or vehicles.
"Because of its dominance, Bermuda's growth is setting the trend for the overall market," KBRA said.
Interestingly, KBRA says that it expects that Bermuda will outpace the world for growth of traditional reinsurance capital in 2017, once the final figures are available to review, while on the alternative capital side it is expected to at least keep pace.
It's encouraging for the Bermuda market that it continues to grow its traditional insurance and reinsurance market, at a time when many may have assumed the island was simply shifting this business over onto third-party capital.
Where the shift is evident though is in Bermudian re/insurers retention rates, which paint a picture of companies holding onto less risk for themselves and sharing more of it with third-parties, or ceding it to retrocessional sources of capital, much of which will be from the capital markets as well.
KBRA explains that Bermudian re/insurers have, "Incorporated alternative capital market entities into their organizations to gain more direct access to the capital markets and earn fees as well. Increased use of retrocession and the capital markets has also allowed many to better match risk to capital."
The rating agency says that the increasing use of alternative capital and the integration of ILS practices into the traditional insurance and reinsurance business model is most evident in data showing the amount of risk being retained.
The retention rate, defined as net written premium/gross written premium, declined from almost 86% in 2013 down to just 82% in 2016.
The KBRA analysts expect that this will have continued, likely with the rate dropping to 80% or lower for 2017, a trend we have been covering as Bermudian re/insurers have been laying off more risk to third-party capital and retrocession in recent quarters.
Of course what these higher cessions and sharing of risk with third-party or ILS investors is doing is enabling companies to increase their front-end underwriting, but without having to retain more risk. As a result they can earn fee income and increase their participation in areas of the reinsurance market where their own balance-sheet capital is no longer always the most efficient cost-of-capital around.
As the ILS market and alternative capital becomes increasingly embedded into Bermuda's reinsurance market fabric, the use of another parties capital to underwrite risks will continue to increase and the retention rate may drop further, especially as traditional companies continue to grow.
If this continues, that traditional companies are growing while retaining less of the risk, it will demonstrate that Bermuda has found an equilibrium between traditional and alternative reinsurance capital that provides real benefits.
Of course, given the lower cost-of-capital associated with the capital markets, any equilibrium found won't last forever, as the alternative market will quickly work to originate more of the risk on its own and as directly as possible, suggesting further evolutions to come for the business model and market landscape in Bermuda.
View all of our Artemis Live video interviews and subscribe to our podcast.
All of our Artemis Live insurance-linked securities (ILS), catastrophe bonds and reinsurance video content and video interviews can be accessed online.
Our Artemis Live podcast can be subscribed to using the typical podcast services providers, including Apple, Google, Spotify and more.