Welcome to the third Artemis Monte Carlo Reinsurance Rendezvous Roundtable, in which insurance, reinsurance, and insurance-linked securities (ILS) market participants discussed the response of the capital markets to 2017 catastrophe events, where ILS growth might come from, and emerging risks such as cyber, as well as other industry trends.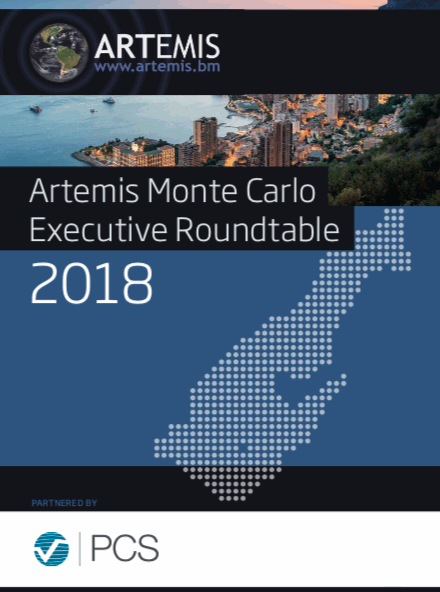 After the trio of Atlantic hurricanes, devastating wildfires in California and two powerful earthquakes in Mexico, the reaction of the ILS space was always going to be a hot industry topic. Roundtable participants underlined the impressive response of both the investor and sponsor base, suggesting that regardless of potential improvements in other alternative investments, 2018 has shown that allocations to the asset class would be maintained.
But while the ILS sector is perhaps unquestionably here to stay, its focus remains heavily skewed towards the peak U.S. perils. Market experts and executives noted this trend and discussed the huge opportunity that exists for ILS to help close the protection gap in both mature and emerging markets.
The influence of governments and entities such as the NFIP and FEMA was explored during the roundtable, as was the potential for parametric trigger structures to broaden the reach of ILS capacity.
Looking to the future, roundtable participants discussed the growing cyber market and whether the ILS community can play a role now, or if the inherent complexity of cyber risk and uncertainty surrounding correlation means convergence capital will be influential, just further down the line.
The ILS market has shown its resilience in 2018 and put to bed any doubts about its permanence and appetite for insurance and reinsurance-linked business. As the marketplace looks to expand its remit, it will be interesting to see its ongoing evolution and influence across the risk transfer industry.
Thank you to our Roundtable sponsor Property Claim Services (PCS).
Download your copy of the Artemis Monte Carlo Rendezvous Executive Roundtable 2018.
Download copies of all of our Executive Roundtable reports here.
View all of our Artemis Live video interviews and subscribe to our podcast.
All of our Artemis Live insurance-linked securities (ILS), catastrophe bonds and reinsurance video content and video interviews can be accessed online.
Our Artemis Live podcast can be subscribed to using the typical podcast services providers, including Apple, Google, Spotify and more.