Persistent and severe weather events in the U.S. so far in 2017 has seen large insurer Allstate's estimated catastrophe losses surpass $1 billion, suggesting that some could be calling on their reinsurance protection as losses eat through retentions, possibly impacting insurance-linked securities capital (ILS), too.

U.S. domiciled insurance firm, Allstate Corporation, has reported estimated catastrophe losses of $235 million for April 2017, from 11 events, after reporting first-quarter catastrophe losses of an estimated $781 million (of which $516 million was in March 2017).
Combined, Allstate's catastrophe losses so far in 2017 has reached an estimated $1.016 billion. Allstate's Nationwide Per Occurrence Excess Catastrophe Reinsurance Program kicks in at $500 million, although it's unlikely that the $1.016 billion of aggregated losses will make it through to the company's reinsurance layers.
Much of the losses are a result of the very active start to the year for severe convective weather, thunderstorm, hail and tornado events in the U.S.
And with insurers the size of Allstate reporting estimated catastrophe losses of more than $1 billion in 2017, so far, it's more than likely that others are experiencing similar rates of attrition, or even higher, which means more insurers calling on their reinsurance providers, as losses aggregate above retention levels.
The severe weather systems witnessed across parts of the U.S. in the first four-five months of 2017, and the financial impact it's having on companies as large as Allstate, suggests insurance-linked securities (ILS) capital could be exposed as well.
The size of the losses seen this year does suggest that the attritional loss run-rate for some ILS funds and structures would likely have been increasing owing to the severe weather witnessed in the U.S.
ILS capital continues to grow its share of the international reinsurance marketplace, resulting in higher exposure to more severe weather episodes that appear to be increasing in both frequency and severity, in many parts of the world.
Join Artemis in Singapore on July 13th 2017 for ILS Asia, tickets on sale here


———————————————————————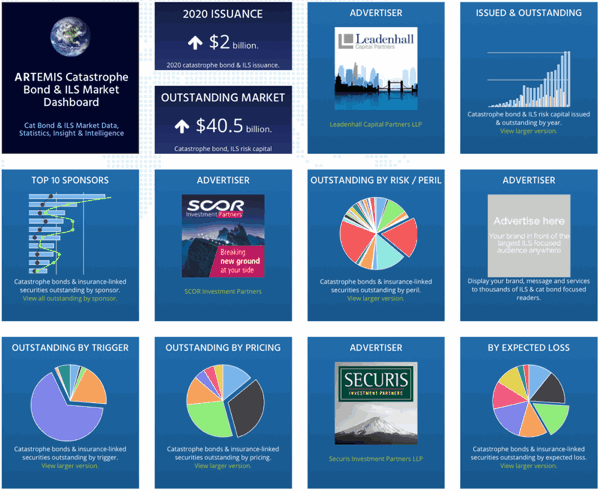 Analyse catastrophe bond market issuance using the Artemis Dashboard and Charts.
We've tracked more than 650 cat bonds and related ILS transactions since 1996, all of which are included in our extensive Deal Directory.
Use the Artemis Dashboard and our Cat Bond Market Charts to analyse this market!