American International Group (AIG) issued a press release late on Friday to announce the estimated catastrophe losses experienced by its property and casualty subsidiary Chartis in the first quarter 2011. Total estimated insured losses for the quarter are expected to come to around $1 billion with around $700m attributed to the Japanese earthquake and tsunami disaster.

As well as these losses experienced by Chartis, AIG are also expecting a hit from their participation in the Japanese Earthquake Reinsurance Company (JERC). AIG explains:
The preliminary estimate excludes losses arising from AIG's general insurance operations in Japan that participate in the JERC, which is the exclusive provider of earthquake coverage for personal dwellings and their contents in Japan, as the industry loss remains unquantified at this time. In accordance with Japanese statutory accounting rules, AIG's general insurance operations in Japan have previously established catastrophe reserves of approximately $500 million for potential claims associated with earthquake damage to personal dwellings and have deposited funds for a substantial portion of these reserves with the JERC. These deposits will be utilized to pay earthquake claims on personal dwellings, thereby reducing the impact on the liquidity of the operations.

U.S. GAAP prohibits the establishment of catastrophe reserves in advance of a catastrophic event occurring. The maximum U.S. GAAP pre-tax loss that AIG general insurance operations in Japan can incur from claims associated with earthquake damage to personal dwellings is approximately $575 million, including such claims filed with Fuji Fire and Marine Insurance Co., Ltd., in which AIG holds a 54.66 percent equity stake and whose financial results are consolidated in AIG's financial statements.
The final total will only be known once the full damage is quantified and understood which could take some time, said AIG.
———————————————————————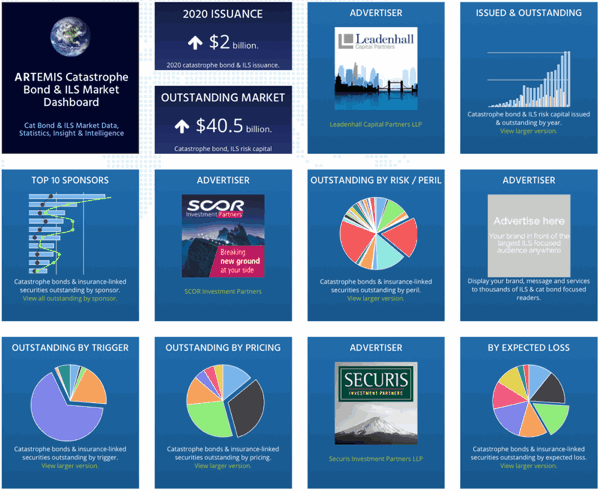 Analyse catastrophe bond market issuance using the Artemis Dashboard and Charts.
We've tracked more than 650 cat bonds and related ILS transactions since 1996, all of which are included in our extensive Deal Directory.
Use the Artemis Dashboard and our Cat Bond Market Charts to analyse this market!