A report in Reinsurance Magazine covers a new hire at Aegis London who the story says is being brought in to help launch contingency activities in the London market insurer. The story states that Aegis will soon be offering a range of contingency risk products such as event cancellation, prize indemnity and adverse weather cover.
Aegis has traditionally been an insurer who targeted the energy markets for the bulk of its business, however it now has a diversification strategy in place. Aegis' energy risk product range includes Climatic RiskSM, a product for energy companies which uses degree days and precipitation patterns to create weather risk management programs. So Aegis certainly has a pedigree and understanding of weather risk management which could enable them to launch weather derivative based products aimed at London insurance market customers. Will this result in derivative based, customisable products or more standard weather insurance programs? We hope the former as London could do with some innovation in the weather risk arena. There's a great opportunity out there for companies willing to diversify into this area in the London market, particularly those focusing on smoothing earnings through clever application of weather risk management techniques.
———————————————————————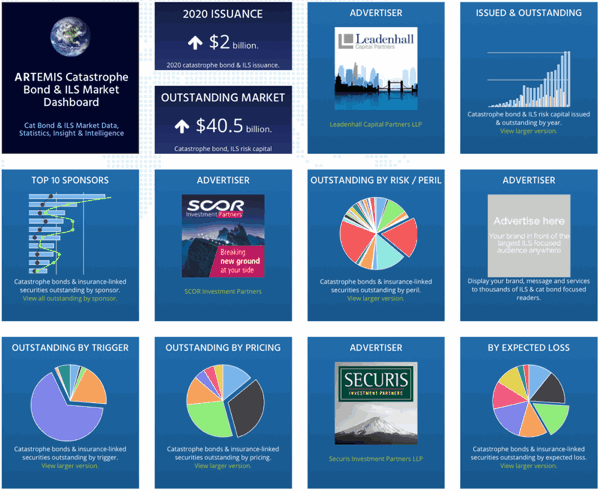 Analyse catastrophe bond market issuance using the Artemis Dashboard and Charts.
We've tracked more than 650 cat bonds and related ILS transactions since 1996, all of which are included in our extensive Deal Directory.
Use the Artemis Dashboard and our Cat Bond Market Charts to analyse this market!