George Town Re Ltd. – Full details:
Coverage for U.S./Caribbean Cat, European Cat, Other Property Cat, retrocessional / Lloyd's shorttail, marine and fire. In the form of a retrocessional quota share.
St Paul Re ceded a quota share of its excess of loss property reinsurance treaty to George Town Re, so the cat bond issuer became one of the reinsurers retrocessionaires. $10m of limit was ceded per line of business. The cat bond trigger point was set at 170% of the underlying risks coverage limit.
The transaction was really designed to augment St Paul Re's capacity across the five lines of business, in this way the transaction was not just a pure transfer of risk but a very early example of a securitisation of risk being used to tap third-party capital to augment underwriting capacity.
George Town Re sold 89 $500,000 units plus another $24 million of preference shares.
The interest paid to investors varied with the available net income of George Town Re. It was calculated using a combination of the total net premium income available to the vehicle and the return made on securities inevstments.
The George Town Re catastrophe bond paid out $0.5m to the sponsor after it suffered some losses due to a range of catastrophic events, including "Hurricane Floyd and Windstorms Anatol, Lothar and Martin, 2000 UK Floods, and the 2001 attack on the World Trade Centre".
———————————————————————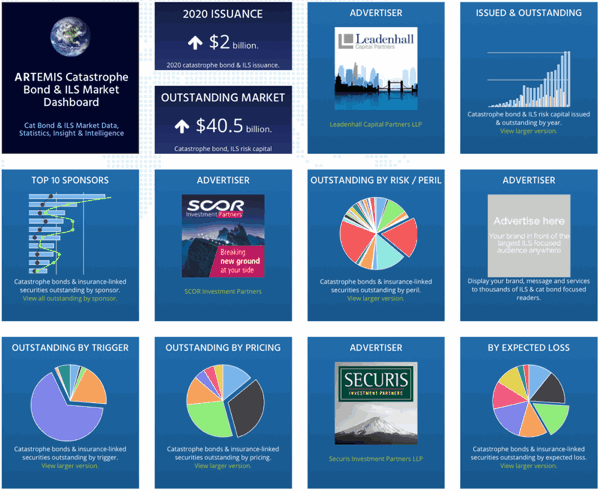 Analyse catastrophe bond market issuance using the Artemis Dashboard and Charts.
We've tracked more than 650 cat bonds and related ILS transactions since 1996, all of which are included in our extensive Deal Directory.
Use the Artemis Dashboard and our Cat Bond Market Charts to analyse this market!