Storm Names
Current Atlantic Conditions
Atlantic Tropical Weather Outlook
From the U.S. National Hurricane Center
Atlantic Tropical Weather Discussion
From the U.S. National Hurricane Center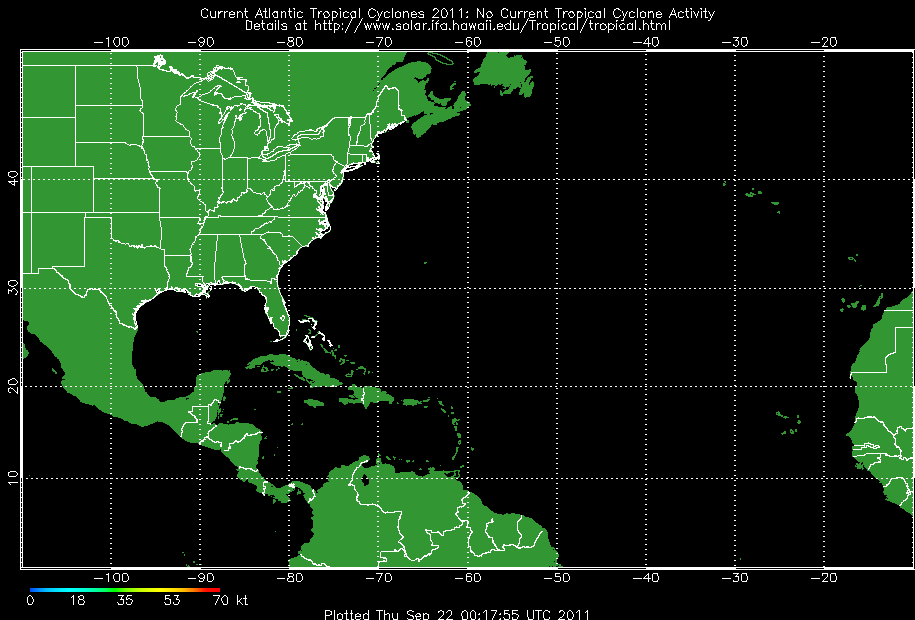 As storms and hurricanes occur you will see their tracks appear on this map. Click the map for a larger version.
Hurricane Season Forecasts
Colorado State University Tropical Meteorology Projects Forecasts
From CSU and Dr William Gray
National Hurricane Center forecast
From the U.S. National Weather Service
Tropical Storm Risk forecasts
From the Benfield UCL Hazard Research Centre
Satellite Imagery
The below satellite images come from the Intellicast.com website. Click (or double click) them to view larger versions.
| | | | | |
| --- | --- | --- | --- | --- |
| Atlantic Satellite | Caribbean Satellite | Current Tropical Surface Features | 24hr Forecast Tropical Surface Features | 24hr Tropical Winds |
Tools, Statsitics & Probabilities
United States Landfalling Hurricane Probability Project
Interactive Landfall Probability Display; The user selects a county, and landfall probabilities based on William Gray's 2008 tropical cyclone forecast are presented. The numbers in parentheses are the climatological averages based on landfalling tropical cyclones in HURDAT.
Hurricane Landfall Statistics by City & Island
Click any city or Island for statistical information on effects from Hurricanes & Tropical Storms within 60 miles
Hurricane Rank by City & Island
Ranked 1 through 50 with the amount of years with no Storm or Hurricane coming within 60 miles n-s-e or west of that city(in perenthesis). This ranking is based on tracking charts dating back to 1871 from every Hurricane Season.
Catastrophe Updates & Historical Information
RMS CAT Updates
Timely updates on catastrophes both natural and man-made, from Risk Management Solutions
Instrat Cat Central Updates
Timely updates on catastrophes both natural and man-made, from Guy Carpenter
View all of our Artemis Live video interviews and subscribe to our podcast.
All of our Artemis Live insurance-linked securities (ILS), catastrophe bonds and reinsurance video content and video interviews can be accessed online.
Our Artemis Live podcast can be subscribed to using the typical podcast services providers, including Apple, Google, Spotify and more.