California-based Palomar Specialty Insurance Company is set to complete its first catastrophe bond, the Torrey Pines Re Ltd. (Series 2017-1) deal, at an upsized $166 million and with pricing looking likely to settle around the mid to bottom of guidance.

Private equity owned Palomar Specialty Insurance Company entered the cat bond market at the beginning of April, with the launch of a three tranche Torrey Pines Re 2017-1 transaction that seeks a capital markets source of fully-collateralized multi-peril and per-occurrence reinsurance protection for the firm.
The Torrey Pines Re cat bond, which will provide Palomar Specialty with reinsurance cover against losses from U.S. named storms, U.S. earthquakes and U.S. severe thunderstorms across a three-year term, was launched to ILS investors with a mooted $143 million size at launch.
However, sources tell us that as the deal approaches pricing it has increased in size by by 16% and now looks set to secure a $166 million source of capital market investor backed reinsurance for the sponsor.
The Class A tranche of U.S. earthquake only notes, which is the lowest risk, launched at $45 million in size and had price guidance of 2.75% to 3.25%. Now, this tranche remains at $45 million but the price guidance has been fixed at the middle at 3%, we understand.
The $48 million Class B tranche of U.S. earthquake risk only notes, which is the mid risk tranche, have grown in size to $66 million and at the same time pricing has dropped to the bottom of the initial 3.75% to 4.25% guidance, so looks set to settle at 3.75%.
The final $50 million Class C tranche of notes, which will provide multi-peril coverage and are the highest risk, has also grown slightly to $55 million we're told, while the price guidance of 5.75% to 6.5% has now been fixed just above the mid-point at 6.25%.
We understand that orders for this cat bond close today and that Torrey Pines Re 2017-1 will be priced tomorrow, with completion of the issue expected in early May.
You can read all about the Torrey Pines Re Ltd. (Series 2017-1) catastrophe bond and every deal issued since 1996 in the Artemis Deal Directory.
Join Artemis in Singapore on July 13th 2017 for ILS Asia, tickets on sale here


———————————————————————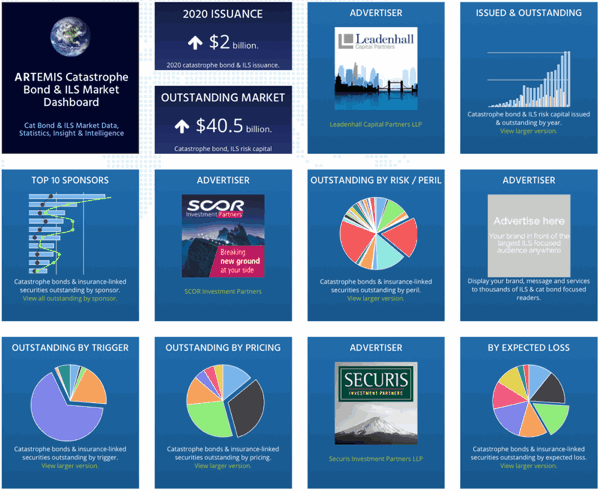 Analyse catastrophe bond market issuance using the Artemis Dashboard and Charts.
We've tracked more than 650 cat bonds and related ILS transactions since 1996, all of which are included in our extensive Deal Directory.
Use the Artemis Dashboard and our Cat Bond Market Charts to analyse this market!