Reinsurance & ILS demand is expected to rise, but price is key, we found in our first global market survey. Reinsurance News and Artemis have teamed up to take the temperature of the global reinsurance market at what is a key time for the industry.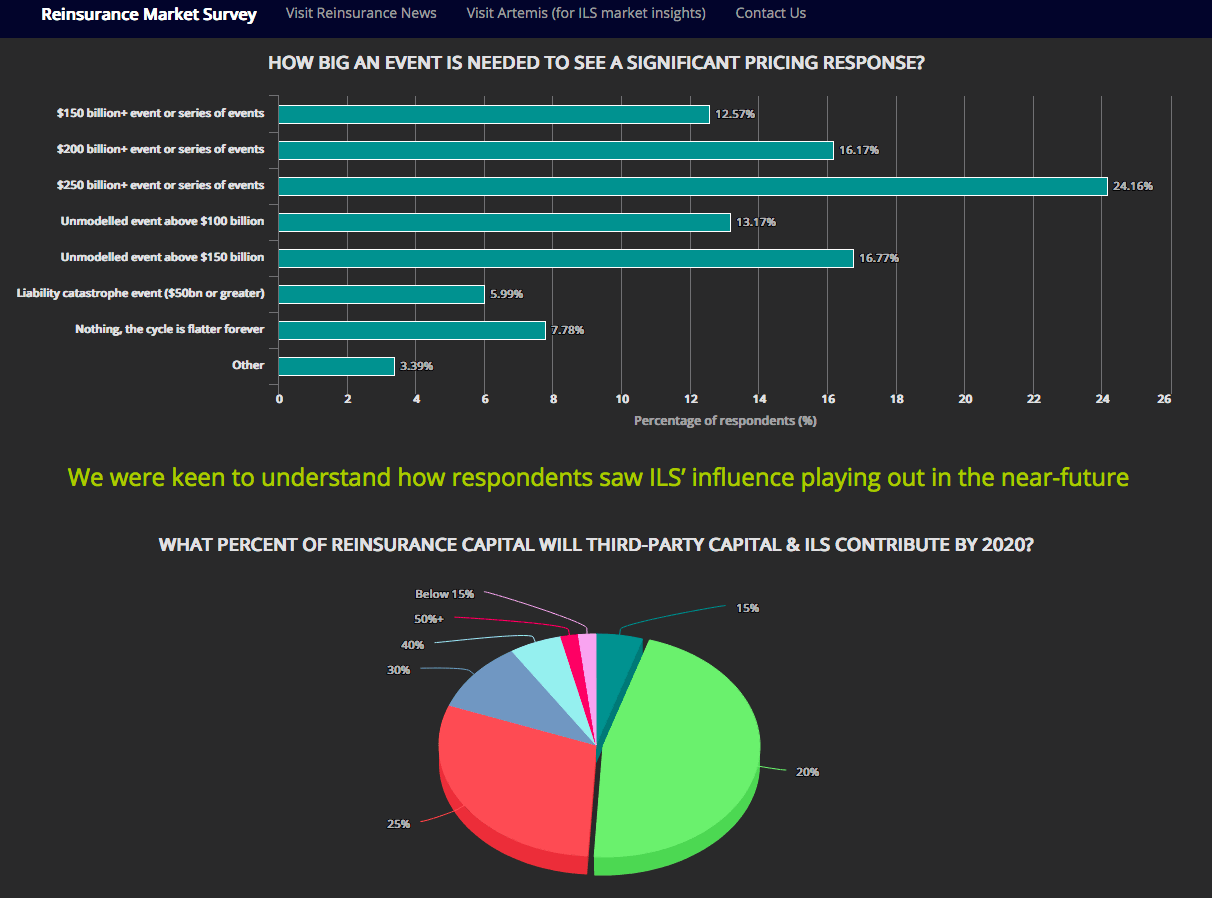 The results of our global reinsurance market survey show buyers are expected to seek out more capacity, but price will be a key motivator during negotiations for the upcoming January 2019 renewals.
The survey was conducted in August 2018 by direct outreach to our senior reinsurance and insurance-linked securities (ILS) industry contacts and through the global readership of both Reinsurance News and Artemis.
Hundreds of responses from identifiable participants were received, including numerous from reinsurance market CEO's and other senior decision makers. In total over 62% of the respondents provide input to or are responsible for reinsurance buying decisions.
We're making the full results available online and you can analyse the data from responses here.
In terms of highlights, the results show that generally, pricing is expected to be relatively flat across most lines of reinsurance business in 2019, with the most significant rate increases anticipated for U.S. property catastrophe risks following the losses of 2017, retrocessional protection, as well as certain underperforming and emerging lines of business.
However, even these lines are in the main expected to experience rate rises in the low single digits. Overall, the feeling is that this year's rate momentum will continue to fade at the January 2019 renewals.
However, it's interesting to note that the outlook is perhaps less bearish than you find at the rating agencies and the like, perhaps a sign of all sides of the market being so keen to keep pricing levels commensurate with the underwriting risk they assume.
Half of the respondents to our survey believe that it will now take a catastrophic loss of more than $200 billion, with the majority opting for a loss of more than $250 billion, to drive a meaningful turn in market pricing.
Insurance-linked securities (ILS) and third-party capital is expected to expand further and claim an increasingly larger slice of the overall reinsurance market pie.
The expectation is that the ILS market will grow to make up between 20% and 25% of dedicated reinsurance capital by 2020 and at the same time, 65% of our survey respondents said they plan to use more ILS capital within their businesses.
Reasons for purchasing reinsurance protection remain varied, as you'd expect, but earnings protection and reducing catastrophe exposure were the two most important factors to those answering our survey.
Regardless of the reasons, the majority of respondents said they expect to purchase a similar level of reinsurance protection or a little more in 2019, suggesting a slight uptick in demand is possible in the year ahead.
Tellingly though, we asked participants to rank the key factors they consider most important when choosing a reinsurance counterparty for the renewals and price was ranked highest, followed by credit quality and rating.
The full results of our first global reinsurance market survey provide a useful test of the temperature of the industry at this time, offering insight on market sentiment and expectations as we move towards the January 2019 reinsurance renewals.
We hope our readers and other interested parties find the results enlightening and useful in making their strategic decisions for the renewal season ahead.
The full results are freely available today and we're happy to discuss them with any industry participants. We're interested to hear your thoughts. We'll also be analysing the full reinsurance market survey results over the coming weeks on both Reinsurance News and Artemis.
Analyse the results of our global reinsurance market survey here.
———————————————————————

View all of our Artemis Live video interviews and subscribe to our podcast.
All of our Artemis Live insurance-linked securities (ILS), catastrophe bonds and reinsurance video content and video interviews can be accessed online.
Our Artemis Live podcast can be subscribed to using the typical podcast services providers, including Apple, Google, Spotify and more.
—————————————