Successor X Ltd. – Full details:
Successor X Ltd. is a one year catastrophe bond transaction designed to provide Swiss Re with protection against California earthquakes and North Atlantic U.S. hurricanes. This deal is being issued to replace and update the existing Successor cat bond program with new indices and collateral structure.
Cover for earthquakes and hurricanes will be on a per-occurrence basis up to November 2010. The deal will have an option to extend this period by three-month increments of up to six months for the earthquake peril and 24 months for the hurricane peril.
Hurricane exposed regions include U.S. Gulf, Mid-Atlantic, Northeast and Southeast states Florida and Puerto Rico. Earthquake risk is restricted to California.
The earthquake portion of this deal will utilise a parametric loss trigger based on actual parameters reported by the U.S. Geological Survey and calculated as index values by EQECAT. Hurricane risk will utilise an industry loss trigger based on actual insured exposure and payouts by region.
The deal consists of three series of notes of $50m each. One class of the notes is rated 'B-' by Standard & Poor's while the other classes were not rated.
All classes of notes were issued as discount notes. Instead of purchasing the note at 100% face value, investors purchase it at a discount and expect to receive 100% of the face value at maturity if no trigger event occurs. This innovative feature allows for a more efficient use of the cash proceeds in the transaction.
The collateral backing this transaction is to be invested in direct government obligations such as treasury bills and all must have a Standard & Poor's principal stability rating of at least 'AAAm-G.
———————————————————————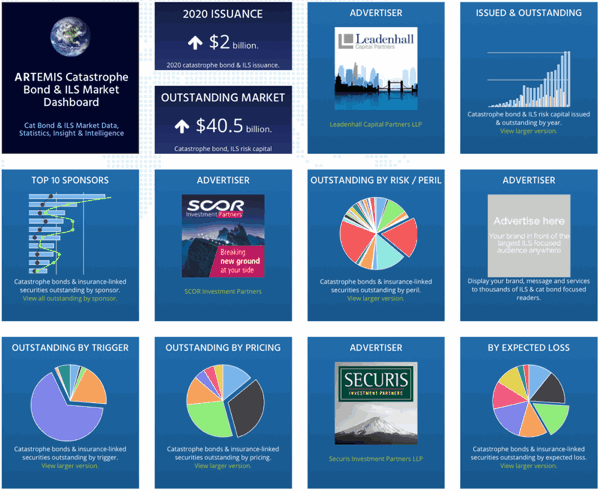 Analyse catastrophe bond market issuance using the Artemis Dashboard and Charts.
We've tracked more than 650 cat bonds and related ILS transactions since 1996, all of which are included in our extensive Deal Directory.
Use the Artemis Dashboard and our Cat Bond Market Charts to analyse this market!