Catastrophe data loss aggregation and estimation firm, PERILS AG, has revealed that since January 1st, 2010, a total of 233 transactions have been placed using its industry loss triggers and data, resulting in combined limits placed of $14.9 billion.

The figures are from the company's latest annual newsletter, which also shows that as at December 31st, 2017, a total $3.425 billion of PERILS-based limits are at risk from 33 in-force transactions, which are going to be catastrophe bonds, industry-loss warranties (ILW's), or other structured reinsurance arrangements.
As shown by the chart below, the total number of PERILS-based transactions increased by just over 17% from the end of 2016 to the end of 2017, while the split between insurance-linked securities (ILS) and industry loss warranties (ILWs) narrowed slightly during this period.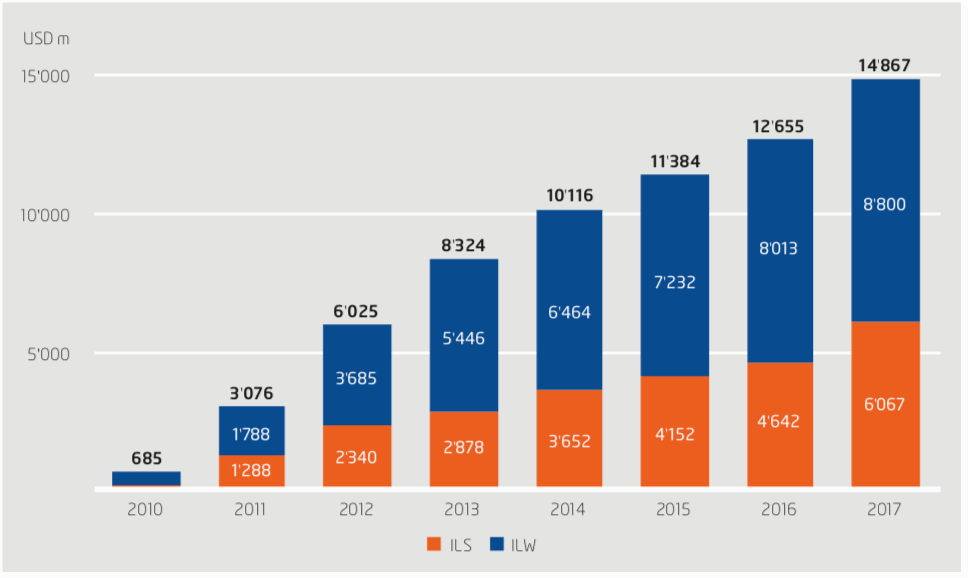 Furthermore, previous PERILS data reveals that across the nine months from the end of March to the end of December, 2017, the total limit at risk of PERILS-based transactions increased from $3.3 billion to $3.425 billion.
That represents a level of growth of 3% across those nine months, which seems to be a slow-down from the near 14% growth from $2.9 billion of PERILS based limits at risk as of end of March 2016 to $3.3 billion a year later. However it's important to note that the more recent nine month data does not include a key January renewal season, which will make some difference.
Of the $3.425 billion of limits at risk which are PERILS trigger based, 23%, or roughly $787 million are ILW while 77%, or roughly $2.64 billion are ILS (144A catastrophe bond transactions).
In terms of the number of transactions, seven of the 33 at risk are catastrophe bonds or ILS, which have an average transaction size of $337 million, and the remaining 26 are ILW, which have an average transaction size of $30 million, states PERILS.
The company also splits out the retrocession versus reinsurance of at risk PERILS-based transactions, which shows that retrocession accounts for 93%, or roughly $3.194 billion and reinsurance makes up the remaining 7%, or $231 million of transactions.
92% of at risk limits utilise structured triggers, explains PERILS.
Broken down by geography, PERILS explains that of the $3.425 billion of PERILS-based limits at risk, $3.334 billion is exposed to Europe, $1.546 billion is exposed to Australia, while $227 million is exposed to Turkey.
Industry loss triggers continue to play a vital role in risk transfer transactions, including catastrophe bonds, ILWs and other private ILS or collateralized reinsurance arrangements, and now PERILS AG has reached $14.9billion of limit placed using its triggers and data.
Register now for our upcoming Singapore conference. Tickets on sale here.


———————————————————————

Tickets are selling fast for Artemis London 2022, our first ILS conference in London. Sept 6th, 2022.
Register soon to ensure you can attend.
Secure your place at the event here!
—————————————