Entropics Asset Management AB, the first insurance-linked securities (ILS) and catastrophe bond fund manager based in Scandinavia, has licensed AIR Worldwide's CATRADER software for portfolio management.

Entropics, an ILS asset manager based in Sweden that will specialise in catastrophe bond investments, has selected AIR Worldwide's CATRADER® as its primary software tool to help it model and manage its portfolio of catastrophe bonds.
Entropics received its license from Finansinspektionen, the Swedish Financial Supervisory Authority, in July and plans to launch its first UCITS catastrophe bond fund, the SEF Entropics Cat Bond Fund, in the coming months to capitalise on the expected pick-up in issuance around the end of the year.
"Our decision to license AIR's CATRADER secures our access to the best data available, scientific expertise, and advanced models," commented Mr. Robert Lindblom, CEO of Entropics. "In conjunction with our in-house analysis, we expect to generate good risk adjusted returns to shareholders of the SEF Entropics Cat Bond Fund. It also provides Entropics with thorough insights into the economic impact of actual and possible catastrophic events worldwide."
"As a manager specialized in cat bonds, risk management is essential to Entropics' investment management process," added Dr. Gunnar Roos, Chief Underwriter of Entropics. "We wanted a leading scientific tool to analyze risks associated with a portfolio of insurance linked securities such as compound portfolio risks, including attachment probabilities and correlations between securities, facilitating risk diversification."
"We appreciate being chosen by Entropics and look forward to working with them by providing superior software and support," said Mr. Yörn Tatge, managing director of AIR Worldwide's Munich office. "CATRADER is the industry standard tool used by asset managers and reinsurers worldwide to model and analyze catastrophe bonds and other insurance-linked securities. It enables investment managers, such as Entropics, to assess the risks associated with a range of insurance-linked securities."
———————————————————————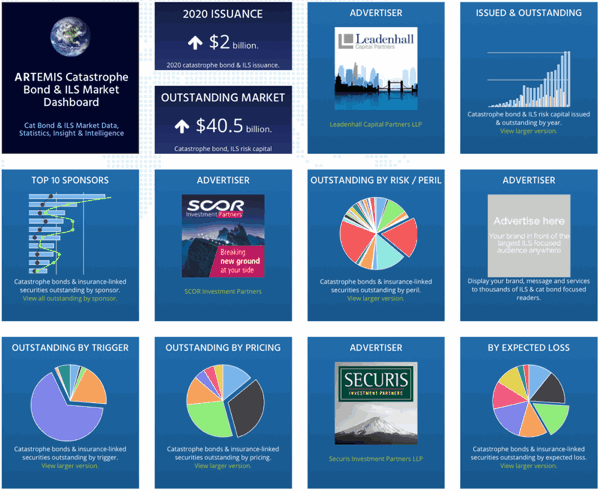 Analyse catastrophe bond market issuance using the Artemis Dashboard and Charts.
We've tracked more than 650 cat bonds and related ILS transactions since 1996, all of which are included in our extensive Deal Directory.
Use the Artemis Dashboard and our Cat Bond Market Charts to analyse this market!