This may not be an exhaustive list of longevity swap, longevity risk transfer and longevity reinsurance transactions so please contact us if you know of any others. Read our article: What is longevity risk transfer?
Keep up with the latest longevity risk transfer news on Artemis.
———————————————————————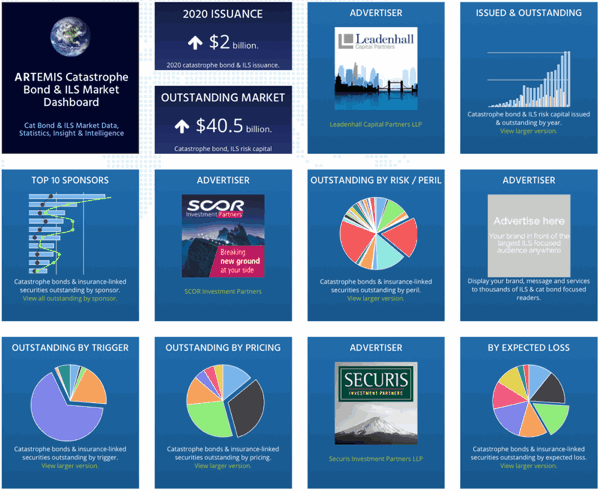 Analyse catastrophe bond market issuance using the Artemis Dashboard and Charts.
We've tracked more than 650 cat bonds and related ILS transactions since 1996, all of which are included in our extensive Deal Directory.
Use the Artemis Dashboard and our Cat Bond Market Charts to analyse this market!

| Fund / Sponsor | Provider(s) | Solution | Size | Sort | Date | Coverage |
| --- | --- | --- | --- | --- | --- | --- |
| Lloyd's Banking Group pension schemes | Pacific Life Re / Scottish Widows | Longevity swap & reinsurance | £10 billion | 10 | Jan 2020 | Read more |
| Aegon | Canada Life Reinsurance | Longevity reinsurance | €12 billion | 13.35 | Dec 2019 | Read more |
| Unknown UK FTSE 100 company | Zurich, Hannover Re | Longevity swap & reinsurance | £800m | 0.8 | Dec 2019 | Read more |
| HSBC UK Pension Scheme | Prudential Insurance Company of America | Longevity swap & reinsurance | £7 billion | 7.0 | Aug 2019 | Read more |
| Phoenix Group | Prudential Insurance Company of America | Longevity reinsurance | ? | | Aug 2019 | Read more |
| Manulife | PartnerRe | Longevity reinsurance | ? | | May 2019 | Read more |
| Manulife | PartnerRe | Longevity reinsurance | ? | | Mar 2019 | Read more |
| VIVAT | Canada Life Reinsurance | Longevity reinsurance | €5.5 billion | 5.5 | Mar 2019 | Read more |
| Manulife | RGA Life Reinsurance Company of Canada | Longevity reinsurance covering annuitants | ? | | Feb 2019 | Read more |
| Pension Insurance Corporation plc | SCOR | Longevity reinsurance | £1.2 billion | 1.2 | Dec 2018 | Read more |
| Lafarge UK Pension Plan | Munich Re | Longevity swap | ? | | Aug 2018 | Read more |
| Unnamed UK pension | Legal & General | Longevity swap & reinsurance | £300 million | 0.3 | Aug 2018 | Read more |
| Aviva | Prudential Insurance Company of America | Longevity reinsurance | $1.4 billion | 1.4 | Aug 2018 | Read more |
| National Grid | Zurich | Longevity swap | £2 billion | 2 | May 2018 | Read more |
| Pension Insurance Corp. | Prudential Insurance Company of America | Longevity reinsurance | $1.2 billion | 1.2 | May 2018 | Read more |
| Scottish Widows | Prudential | Longevity reinsurance | $1.8 billion | 1.8 | Feb 2018 | Read more |
| Pension Insurance Corp. | PartnerRe | Longevity reinsurance | $725 million | 0.725 | Jan 2018 | Read more |
| LV= | Reinsurance Group of America | Asset and longevity reinsurance | £900 million | 0.900 | Dec 2017 | Read more |
| Legal & General | Prudential | Longevity reinsurance | $800 million | 0.800 | Dec 2017 | Read more |
| NN Group | Hannover Re | Index-based longveity hedge | €3 billion | 3 | Nov 2017 | Read more |
| Pension Insurance Corp. | Prudential Insurance Company of America | Longevity reinsurance | $1.2 billion | 1.3 | Nov 2017 | Read more |
| MMC UK Pension Fund | Canada Life Reinsurance, The Prudential Insurance Company of America (PICA) | Longevity swap & reinsurance | £3.4 billion | 3.4 | Sep 2017 | Read more |
| British Airways Pension Scheme | Partner Re, Canada Life Re | Longevity swap & reinsurance | £1.6 billion | 1.6 | Aug 2017 | Read more |
| SSE plc pensions | Pension Insurance Corporation plc, Legal & General | Buy-ins, longevity insurance & reinsurance | £1.2 billion | 1.2 | Aug 2017 | Read more |
| Pension Insurance Corporation plc | SCOR | Longevity swap & reinsurance | £1 billion | 1 | Jul 2017 | Read more |
| Skanska pension fund | Zurich / SCOR | Longevity swap & reinsurance | £300 million | 0.3 | Jun 2017 | Read more |
| Rothesay Life | Prudential Financial | Longevity reinsurance | $1.2 billion | 1.2 | Mar 2017 | Read more |
| Unnamed defined benefit pension scheme | Zurich / SCOR | Longevity swap & reinsurance | £300 million | 0.3 | Jan 2017 | Read more |
| Unnamed UK defined benefit pension scheme | Legal & General | Longevity swap & reinsurance | £900 million | 0.9 | Dec 2016 | Read more |
| Canadian Bank Note Company, Limited | Canada Life Assurance | Longevity swap & reinsurance | $35 million | 0.035 | Nov 2016 | Read more |
| AXA France | RGA Re | Longevity swap & reinsurance | €1.3 billion | 1.3 | Nov 2016 | Read more |
| Unnamed defined benefit pension scheme | Zurich / Pacific Life Re | Longevity swap & reinsurance | £50 million | 0.050 | Oct 2016 | Read more |
| Two Pirelli pension plans | Zurich / Pacific Life Re | Longevity swap & reinsurance | £600 million | 0.600 | Aug 2016 | Read more |
| Manweb (ScottishPower) | Abbey Life | Longevity swap | £1 billion | 1 | Aug 2016 | Read more |
| Legal & General | Prudential | Longevity reinsurance | ? | | Aug 2016 | Read more |
| Pension Insurance Corp. | Prudential Insurance Company of America | Longevity reinsurance | $1.1 billion | 1.1 | Jun 2016 | Read more |
| Legal & General | Prudential | Longevity reinsurance | ? | | Apr 2016 | Read more |
| Unnamed UK pension plan | Zurich / Pacific Life Re | Longevity swap & reinsurance | £90 million | 0.090 | Dec 2015 | Read more |
| RAC (2003) Pension Scheme | SCOR SE | Longevity swap & reinsurance | $900 million | 0.900 | Nov 2015 | Read more |
| Philips UK Pension Fund | Pension Insurance Corp. & Hannover Re | Buyout & longevity reinsurance | £2.4 billion | 2.4 | Nov 2015 | Read more |
| Scottish & Newcastle Pension Plan | Friends Life (plus Swiss Re) | Longevity swap & reinsurance | £2.4 billion | 2.4 | Sep 2015 | Read more |
| Legal & General | Prudential | Longevity reinsurance | $2.9 billion | 2.9 | Aug 2015 | Read more |
| Aegon | Canada Life Re | Longevity swap & reinsurance | €6 billion | 6 | Jul 2015 | Read more |
| AXA UK Pension Scheme | RGA Re | Longevity swap | £2.8 billion | 2.8 | Jul 2015 | Read more |
| Pension Insurance Corp. | Prudential Insurance Company of America | Longevity reinsurance | £1.6 billion | 1.6 | Jun 2015 | Read more |
| Delta Lloyd | RGA Re | Index-based longevity derivative (swap) | €12 billion | 12 | Jun 2015 | Read more |
| Pension Insurance Corp. | Prudential Insurance Company of America | Longevity reinsurance | £? | | Apr 2015 | Read more |
| Bell Canada Pension Plan (BCE Inc.) | Sun Life Financial Inc. (plus SCOR & RGA Re) | Longevity swap & reinsurance | CAD$5 billion | 5 | Mar 2015 | Read more |
| ScottishPower | Abbey Life | Longevity swap | £2 billion | 2 | Feb 2015 | Read more |
| Rothesay Life | Prudential | Longevity reinsurance | $450 million | 0.450 | Jan 2015 | Read more |
| MNOPF | Pacific Life Re | Longevity swap & reinsurance via incorporated cell | £1.5 billion | 1.5 | Jan 2015 | Read more |
| Rothesay Life | Pacific Life Re | Longevity reinsurance | £1 billion | 1 | Dec 2014 | Read more |
| Legal & General | Prudential | Longevity reinsurance | $2.2 billion | 2.2 | Oct 2014 | Read more |
| Delta Lloyd | RGA Re | Index-based longevity derivative (swap) | €12 billion | 12 | Aug 2014 | Read more |
| Phoenix Group | Phoenix Life | Longevity swap with simultaneous quota share reinsurance | £900 million | 0.900 | Aug 2014 | Read more |
| Rothesay Life | Prudential | Longevity reinsurance transaction | $1.7 billion | 1.7 | Aug 2014 | Read more |
| AXA France | Hannover Re | Longevity swap | €750 million | 0.750 | Aug 2014 | Read more |
| BT Pension Scheme | Prudential Insurance Company of America | Pensioner bespoke longevity swap | £16 billion | 16 | Jul 2014 | Read more |
| Total UK Pension Plan | Pension Insurance Corporation / Hannover Re | Buy-in and longevity reinsurance transaction | £1.6 billion | 1.6 | Jun 2014 | Read more |
| Royal London | RGA International Reinsurance Co. | Longevity reinsurance transaction | £1 billion | 1 | May 2014 | Read more |
| AkzoNobel | Legal & General / Prudential | Buy-in, bulk annuity and longevity reinsurance | £3.6 billion | 3.6 | Mar 2014 | Read more |
| Aviva | Swiss Re / Munich Re / SCOR | Pensioner bespoke longevity swap | £5 billion | 5 | Mar 2014 | Read more |
| BAE Systems | Legal & General | Pensioner bespoke longevity swap | £1.7 billion | 1.7 | Dec 2013 | Read more |
| Astra Zeneca | Deutsche Bank / Abbey Life | Pensioner bespoke longevity swap | £2.5 billion | 2.5 | Dec 2013 | Read more |
| Carillion | Deutsche Bank / Abbey Life | Pensioner bespoke longevity swap | £1 billion | 1 | Dec 2013 | Read more |
| Aegon | Société Générale CIB / SCORa | Longevity swap to capital market investors and reinsurers | €1.4 billion | 1.4 | Dec 2013 | Read more |
| Pension Insurance Corporation | Reinsurers | Longevity reinsurance | £1.4 billion | 1.4 | Nov 2013 | Read more |
| Philips Pension Fund | Rothesay Life | Pension insurance including longevity risk | £484 million | 0.484 | Oct 2013 | Read more |
| Cobham plc | Rothesay Life | Bulk annuity and longevity insurance | £280 million | 0.280 | Aug 2013 | Read more |
| EMI Group Pension Fund | Pension Insurance Corpration | Buy-out of all liabilities including longevity risk | £1.5 billion | 1.5 | Jul 2013 | Read more |
| Canadian Wheat Board | Sun Life Assurance Company of Canada | Annuity buy-in and asset transfer | $150 million | 0.150 | Jun 2013 | Read more |
| Bentley | Deutsche Bank / Abbey Life | Pensioner bespoke longevity swap | £400 million | 0.400 | May 2013 | Read more |
| Abbey Life / Rothesay Life | Hannover Re | Longevity reinsurance transaction | £1 billion | 1 | Apr 2013 | Read more |
| BAE Systems | Legal & General / Hannover Re | Pensioner bespoke longevity swap | £3.2 billion | 3.2 | Feb 2013 | Read more |
| LV= | Swiss Re | Pensioner and all members over age 55 longevity swap | £800 million | 0.800 | Dec 2012 | Read more |
| Pension Insurance Corporation | Munich Re | Longevity reinsurance transaction | £400 million | 0.400 | Dec 2012 | Read more |
| Verizon | Prudential | Pension liability buy-out | $7 billion | 7 | Oct 2012 | Read more |
| Pension Insurance Corporation | Munich Re | Longevity reinsurance transaction | £300 million | 0.300 | Jul 2012 | Read more |
| General Motors | Prudential | Pension liability buy-out | $26 billion | 26 | Jun 2012 | Read more |
| AkzoNobel | Swiss Re | Pensioner bespoke longevity swap | £1.4 billion | 1.4 | May 2012 | Read more |
| Aegon | Deutsche Bank | Capital markets longevity swap | €12 billion | 12 | Feb 2012 | Read more |
| Pilkington | Legal & General / Hannover Re | Pensioner bespoke longevity swap | £1 billion | 1 | Dec 2011 | Read more |
| British Airways | Goldman Sachs / Rothesay Life | Pensioner bespoke longevity swap | £1.3 billion | 1.3 | Dec 2011 | Read more |
| Rolls Royce | Deutsche Bank / Abbey Life | Pensioner bespoke longevity swap | £3 billion | 3 | Nov 2011 | Read more |
| ITV | Credit Suisse | Pensioner bespoke longevity swap | £1.7 billion | 1.7 | Aug 2011 | Read more |
| Pall | JP Morgan | Non-pensioners index based longevity hedge | £100 million | 0.100 | Feb 2011 | Read more |
| British Airways | Goldman Sachs / Rothesay Life | Synthetic buy-in (longevity swap plus asset swap) | £1.3 billion | 1.3 | Jul 2010 | Read more |
| BMW | Deutsche Bank / Abbey Lif | Pensioner bespoke longevity swa | £3 billion | 3 | Feb 2010 | Read more |
| Berkshire County | Swiss Re | Pensioner bespoke longevity swap | £1 billion | 1 | Dec 2009 | Read more |
| RSA Insurance | Goldman Sachs / Rothesay Life | Synthetic buy-in (longevity swap plus asset swap) | £1.9 billion | 1.9 | Jul 2009 | |
| Babcock | Credit Suisse | Pensioner bespoke longevity swap (three schemes) | £500 million | 0.500 | May 2009 | Read more |
| Canada Life (UK arm) | JP Morgan | Pensioner bespoke longevity swap | £500 million | 0.500 | Sep 2008 | Read more |
| Lucida | JP Morgan | Index linked longevity derivative | ? | | Feb 2008 | |
The Artemis