Lodgepine Capital Management Limited
The Artemis Insurance-Linked Securities Investment Managers & Funds Directory is a one-stop resource for information on insurance or reinsurance linked investment managers and their ILS fund strategies.
Lodgepine Capital Management Limited - snapshot
ILS manager or company name: Lodgepine Capital Management Limited
Location (HQ / Domicile): Bermuda
Date of launch: September 2019
Assets under management *: $100m (seed capital as of late 2019)
Website link: Lodgepine Capital Management Limited website
Lodgepine Capital Management Limited - Details
Company profile:
Lodgepine Capital Management Limited is owned by Markel Corporation and is a retrocessional reinsurance focused insurance-linked securities (ILS) fund management unit, based in Bermuda.
Underwriting its retrocessional reinsurance products through a reinsurer named Lodgepine Re, Lodgepine Capital Management is planning to begin activities at the January 2020 renewals.
The initial product offering of Lodgepine Capital Management is a property catastrophe retrocessional investment fund, called the Lodgepine Fund Limited, which Markel has itself seeded with a $100 million investment.
Lodgepine Capital Management will offer cedants a suite of property retrocession products, with coverage available either on a fully collateralized basis, underwritten by Lodgepine Re, or on a rated paper basis underwritten by Markel Bermuda Limited, or even a combination of the two.
Lodgepine Capital Management registered the first Collateralized Insurer class vehicle in Bermuda, in Lodgepine Reinsurance Limited.
Team size and structure:
Andrew "Barney" Barnard is CEO of Lodgepine. James "Jamie" Welsby is Chief Investment Officer. John Duda leads the retrocessional portfolio management team. Brenton "Brent" Slade is President.
Contact:
Email: [email protected]
———————————————————————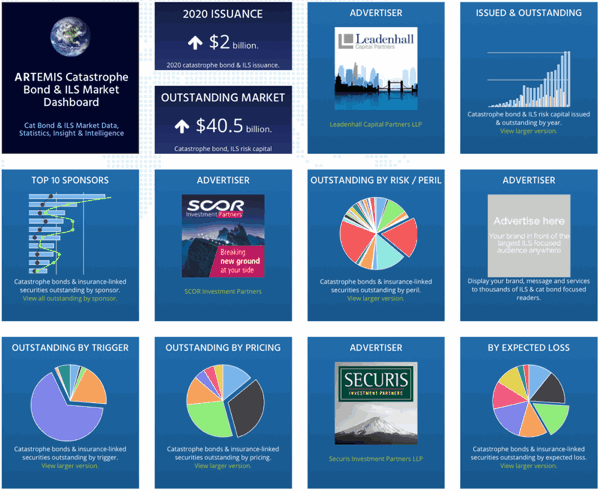 Analyse catastrophe bond market issuance using the Artemis Dashboard and Charts.
We've tracked more than 650 cat bonds and related ILS transactions since 1996, all of which are included in our extensive Deal Directory.
Use the Artemis Dashboard and our Cat Bond Market Charts to analyse this market!


*Note: Assets under management are prone to fluctuation so the figures here are either the best available or last submitted by included managers.
The Artemis
Insurance-Linked Securities Investment Managers & Funds Directory
is copyright © Steve Evans Ltd. Reproduction or publication without permission is not permitted. Use of this information within a commercial product, or for profit, without a license is strictly prohibited. Contact us if you would like to use this content or to discuss licensing.
The Content does not constitute an offer, solicitation or recommendation to acquire or dispose of any investment or to engage in any other transaction. It is the responsibility of the individual user to consider his legal and regulatory position in the relevant jurisdiction, the risks associated with trading such products and to ensure that the use of the Content and the subsequent making of any investment does not contravene any such restrictions or applicable laws and regulations of any jurisdiction.